How green is my emerald?
On an Internet site for consumer complaints, one woman recounted buying an emerald ring while on vacation. When she got home and had it appraised, the appraiser said it did not meet US color standards to even be called an emerald.
What does that mean?
Everyone associates the word "emerald" with green. Ireland is called the emerald isle for its rolling green hills and lush vegetation. We hear references to emerald eyes or an emerald green sea. But what does it take to call a gemstone "emerald"—and to value it as emerald?
The gem known as emerald belongs to the mineral group beryl, which is found around the world. Pure beryl is colorless, but trace minerals produce colors such as green, blue, yellow, red, and white. And some of those beryl colors have specific gemological names, such as aquamarine for the blue-green variety and morganite for the pink to light purple stone.

The gem known as "emerald" is green beryl. But there is also green beryl that is just called "green beryl" and is considered not the best. A pale green is not properly called emerald and it is less valuable. But as the green beryl material comes in a gradation of hue from pale to deep green, at some point a distinction must be made between emerald and green beryl. This is similar to the distinction between ruby, the reddest of the corundum mineral, and the paler reds that are classed as pink sapphire.
Price is the reason the distinction is important. Emerald commands a higher price than "green beryl."
Gemologists differ on how to make that distinction. Some say it depends on the mineral that is causing the beryl to be green. Others believe that where the beryl was mined must be taken into account. Traditionally, beryl that was a richly saturated green was considered emerald, and some gemologists hold that visual judgement is still the best criterion.
Describing emerald
In general, a colored gemstone's most significant quality in terms of valuation is its color. Color is not just a word, like green, but a precise gemological description in terms of tone, saturation and hue. An emerald's color, for example, might be described as "Medium Light" tone, "Very Slightly Grayish" saturation, and "very slightly bluish Green" hue. See Colored Gemstones—the 4 Cs for more detail.
Clarity is also of prime importance in describing emerald. This gem material is by nature highly included. Emerald should be transparent, but inclusions can render it translucent or even opaque. To improve their appearance, emeralds are often subjected to fracture filling. This inexpensive treatment makes an inferior stone look more attractive (and more saleable) but does not alter the stone. Fractures are still present and they make the stone vulnerable to damage.
For all gems, and especially emerald, the appraisal description should specifically state whether the stone is or is not fracture-filled. See our earlier story on Emeralds for more on gem enhancements and other issues of importance in valuing and insuring this gem.
What's in a name? Marketing value!
As one gemologist put it, there is more emerald than green beryl in the eye of the seller than there is in the eye of the buyer. Emerald is a recognized member of the big four (with diamond, ruby and sapphire) and it gets consumer respect.
Despite the fact that the word emerald derives from a Greek word meaning "green stone," the cachet of emerald has spread to other colors. Red beryl is being marketed as red emerald. This gem is too rare to be widely marketed, being mined in only one location, and it is found only in small sizes. Nevertheless, to make a gem saleable and even pricey, red emerald is certainly more captivating a term than red beryl or its alternate name bixbite (after its discoverer Maynard Bixby).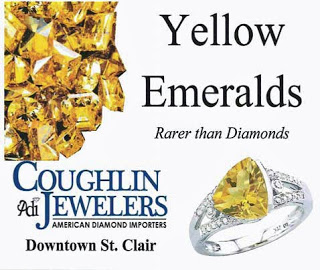 Similarly, yellow beryl is marketed as yellow emerald, to take advantage of the perception of emerald as valuable. The website yellowemerald.co says, "The Yellow Emerald Mining Company saves you money by combining the mining facility, the manufacturer, the wholesaler, and the retailer into one entity." In fact the company tried to trademark the term "yellow emerald" but failed because the phrase was already widely used to refer to yellow beryl.
As to the consumer quoted in the opening paragraph . . .
We don't know whether her jewelry contained emerald or green beryl. We don't know whether she received an appraisal from the seller with a description of the stone's qualities, or if she just got the verbal description: "emerald."
Presumably she liked the gem when she bought the jewelry, but she was told it was emerald and that name played a part in her purchase.
Did she pay for emerald, which has a higher value than other green beryl? We don't know—and she may not know either. What seemed like a bargain price for emerald may have been a perfectly reasonable price for green beryl.
FOR AGENTS & UNDERWRITERS
Color is of prime importance in valuing emerald. The appraisal should have a detailed description in precise gemological language.
Terms like red emerald and yellow emerald are basically marketing terms. You still want a precise color description of the gem.
Not every jeweler, nor even every trained gemologist, is competent to appraise emeralds. A reliable appraiser is one who is experienced with colored gemstones and familiar with current pricing, treatments, and frauds. The appraiser should be a GG or FGA+, preferably also a Certified Insurance Appraiser™.
Fracture filling is so commonplace that emeralds NOT so treated are worth considerably more than treated stones. The appraisal should either note the treatments performed on the emerald or explicitly state that the stone is untreated.
Read more about fracture filling and about an insurance claim involving a fracture-filled emerald.
FOR ADJUSTERS
Terms like red emerald and yellow emerald are basically marketing terms for red and yellow beryl.
Replace with like kind and quality. Rely on precise color and clarity descriptions.
Look carefully at the appraisal and other documents for words like treated, enhanced, fracture-filled and laser-drilled. This is crucial information when pricing a replacement.
Fracture filling is so commonplace in the emerald market that stones NOT so treated are worth considerably more than treated stones. Do not consider an emerald as untreated unless the appraisal specifically states that it is.
Because fracture filling is so common, have all damaged emerald jewelry examined in a gem lab by a Certified Insurance Appraiser™.
Breakdown of a fracture-filling treatment is not considered damage for which the insurer is liable.
It is wise to suspect fracture filling if:
damage appeared after the jewelry had been cleaned or the stone reset. (Heat or pressure can disturb the fracture-filling treatment.)
The policyholder's purchase price seems unusually low for the stated quality of the piece. (The customer may have gotten "a good deal" because the jewelry was low quality to begin with.)
In nature, fine emeralds with few inclusions are very rare and extremely expensive, while in the lab, attractive, unincluded emeralds can easily be synthesized and sold at affordable prices.
Terms such as lab-grown, man-made, created, and cultured mean that the emerald is synthesized. Lab-made gems have considerably lower value than mined gems of the same quality.
©2000-2018, JCRS Inland Marine Solutions, Inc. All Rights Reserved. www.jcrs.com
Subscribe to Jewelry Insurance Issues