Ruby Ruse
One of the latest gem scams is a ruby ruse:
camouflaging synthetic ruby so it passes as natural.
Synthesizing ruby — that is, creating it in a lab — is nothing new. The process has been around since it was developed by August Verneuil in 1902. The jewelry industry welcomed the synthetic gems, not only because they were less expensive but also because their size could be controlled.
For example, Art Deco jewelry of the 1920s and '30s often displayed a row of rubies of similar size. Since natural rubies of similar size would be hard to find in quantity, synthetic gems were often mixed with natural ones. The purchaser understood this was the case. (Today's heirs and antique collectors are often surprised when they have period jewelry appraised! However, trained estate appraisers expect some synthetic stones and their presence helps date the jewelry.) The point is, there's a place for synthetic gems, even in fine jewelry.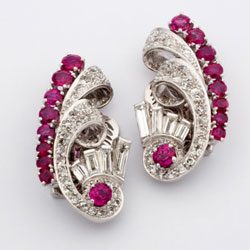 Recently, however, the Gemological Institute of America (GIA) has reported finding significant amounts of synthetic ruby salting batches of natural ruby sold to gem dealers. The synthetic gems were cleverly altered to look like natural, heat-treated ruby.
Natural ruby that contains slight fractures is often heated with fluxing agents to induce healing along the fractures. In this new scam, synthetic ruby produced by the Verneuil method is deliberately crackled, then heated with the same fluxing agents used on natural gems. Suppliers mix this synthetic gem material in with batches of natural heat-treated ruby, in hopes that it will just get lost in the shuffle.
No doubt much of it does. A gemologist can readily detect synthetic ruby by examination with a loupe or microscope, but many retailers — actually, most retailers — are not trained gemologists. So a seller may, either knowingly or unwittingly, purchase synthetic rubies and pass them on to the consumer as natural gems.
FOR AGENTS & UNDERWRITERS
Synthetic ruby is worth considerably less than natural (mined) ruby, so the distinction is important to both consumer and insurer.
The best defense against scams, or retailer incompetence, is the insurance industry's standard Jewelry Appraisal JISO 78/79 (formerly ACORD 78/79), prepared by a Graduate Gemologist who is also a Certified Insurance Appraiser™. The gemologist examines the jewelry in a gem lab, using all necessary equipment, to determine the quality of the jewelry. The appraisal gives a detailed description, states whether the gem is natural or synthetic, and lists any gem treatments. This information will prove crucial in the event of a claim.
Natural gems of quality become more difficult to find as sources are mined out, leaving the market more open to synthetic gems of all kinds to fill the demand. The importance of having jewelry inspected by trained and knowledgeable appraisers cannot be overstated.
FOR ADJUSTERS
Examine the appraisal for terms such as synthetic, created, cultured, lab-made, and Verneuil, all of which indicate the ruby is not natural and should not be priced as a natural gem.
In replacing a gem of high value, never assume that the stone is natural simply because the appraisal doesn't mention synthetic. Use every means possible to determine whether it's natural or synthetic.
Even natural rubies can vary dramatically in value depending on whether they have been treated. See the December 2004 issue for a discussion of ruby treatments.
Always have damaged stones examined by a trained gemologist using appropriate gem lab equipment. For rubies, and all colored gems, be sure to consult a jeweler who regularly deals with colored gemstones. The jeweler should be a Graduate Gemologist and a Certified Insurance Appraiser™. You should receive from the examining gemologist a complete appraisal, on JISO 78/79 (formerly ACORD 78/79), describing the current condition of the jewelry and its value.
A complete appraisal on damaged jewelry not only verifies the qualities of the piece (which you can compare with information on file), it also assesses the damage. Occasionally such an inspection reveals a lack of damage, as when a stone suffers normal wear and tear or shows inherent vice, resulting in damage for which the insurer is not responsible.

©2000-2018, JCRS Inland Marine Solutions, Inc. All Rights Reserved. www.jcrs.com
Subscribe to Jewelry Insurance Issues