12 Reasons Not to Insure a Rolex!
It's not that we think Rolex isn't a quality product. It's not that we wouldn't like to own one. But this is a question of insurance risk. There are lots of things an insurer should consider before taking on this luxury watch. Seriously. We've come up with a dozen concerns, and this issue of JII will look at 4.
Rolex is a Really Big Name. Rolex is the official time-keeper at Wimbledon and the U.S. Open, and sponsors the 24 Hours of Daytona car race. That makes for major name recognition. There are many luxury brand watches, but Rolex is the name everyone knows.
What is gained by that prestige is balanced by some disadvantages. The drawbacks affect the company itself, the owners of Rolex watches—and watch insurers.
Here are some things insurers should think about when considering coverage for a Rolex:
Rolex travels.

Rolex has such a prestigious position that it is the go-to brand for showing status. Even the most conservative, understated style makes an impression. Thus it is an ego watch for salespeople who travel.

Travel means more exposure to loss. The watch might be forgotten at a hotel. It could be damaged while the traveler deals with luggage. The owner might be targeted by pickpockets while he is distracted in a crowded airport or on unfamiliar streets.
Bling attracts attention, and bling on a Rolex attracts even more.

Rolex is often worn to broadcast success and it's meant to be seen. Bling makes it even more visible. This page has a number of splendid examples of blinged-out Rolexes. Although other brands may also be decked out, Rolex is at the top of the desirable list.

It's often entertainers and athletes who go in for extravagant jewelry. Surrounded by enthusiastic fans, they may become less cautious about the safety of their jewelry. Especially on the road, they may tend to an adventurous lifestyle. Nightclubbing, walking the streets in the small hours, seeking out exciting experiences in unfamiliar locales, can be risky business. In that environment, flashy jewelry is an easy target for thieves.
Rolex is the most targeted watch.

According to insurance journals, Rolex is the #1 watch pursued by professional thieves. This means it not only prompts one-off holdups on a dark street at night, but it's a dependable source of income on a larger scale.

One recent incident involved 6 people who arrived on 3 mopeds, broke into a jewelry store with sledgehammers, smashed the Rolex displays, and were off with the goods in about two minutes. Display cases with other luxury watches were not touched.

This incident relates directly to our 4th point:
Rolex is easily fenced.

There are many brands of luxury watches produced, but who's heard of them? Many brands are recognized only by collectors and the wealthy, who can afford to pay full price in legitimate sales. But Rolex is so well known that disposing of hot goods is a piece of cake. Potential buyers are all over, from eBay to your corner flea market.

Rolex sales on eBay and other internet venues raise even more concerns for insurers. These concerns, among our dozen reasons to be wary of insuring a Rolex, will be discussed in a future article.
FOR INSURERS & UNDERWRITERS
Be cautious about insuring Rolexes, or any high-value jewelry, for anyone who travels a good deal and takes their jewelry with them. This is particularly true for entertainers and those in the public eye, for whom expensive jewelry is part of their "image." The risk of loss during travel is much higher.
Be sure to have a picture of the watch—or several pictures, with different views.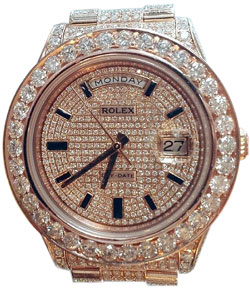 Fine watches are identified by model and serial number, which should be given on the appraisal.
In addition, most manufacturers have separate model numbers for parts of the watch, such as the dial, bezel and band. All these numbers should be on the appraisal.
Rolex and other high-end watches are available with all sorts of diamond and gemstone accessory parts, all of which can carry separate model and part numbers. And these are far more costly than typical after-market parts added by non-Rolex sources.
Any gems on the watch, and the metal of each watch part, should be described on the appraisal in the same detail as for any other piece of gem jewelry. As you can imagine, detailed reporting on a watch encrusted with gems is extremely important to insurers.
Always ask for Rolex warrantee papers and a sales receipt. Rolexes purchased from a seller other an authorized dealer are considered by Rolex to be second-hand and are not covered by the company's warrantee. Even those brand-new never-worn watches stolen in the jewelry store break-in described above would fall into this category, because the buyer of the stolen goods would have no proof of purchase from a Rolex dealer.

Without papers, you have no verification that the watch is a genuine Rolex and not a fake. And we'll have more on this topic in a forthcoming issue.
FOR ADJUSTERS
Check for warrantee papers to be sure the watch is a genuine Rolex before pricing a replacement.
Seek a Rolex replacement only from an authorized Rolex dealer. Do not be tempted to shop in the huge market that exists for watches with unauthorized, aftermarket add-ons. Such modified watches are not considered genuine by Rolex.
Watches are highly competitive. Even going through an authorized dealer, you may be able to get a steep discount. If necessary, consult your jewelry expert for assistance in getting the best price on an authentic Rolex from an authorized dealer.
However, the age of the Rolex is important in determining the settlement. We'll deal with this matter in some detail in a future issue of JII.
©2000-2018, JCRS Inland Marine Solutions, Inc. All Rights Reserved. www.jcrs.com
Subscribe to Jewelry Insurance Issues