Scratch a diamond and you'll find . . .???
Everyone knows that you shouldn't be able to scratch a diamond, and if you tried you would find, well, diamond. These days, scratch a "diamond" and you might find something else.
You might find moissanite, a sparkling synthetic substitute for diamond. Or CZ, a very inexpensive diamond imitator. An elegant coating is covering up the real thing.
Coating gems to make them look better has a long tradition. Early efforts produced gems doomed to a short life, as the coatings looked fake and when they deteriorated left a messy piece of jewelry.
Today's technology does much better. It can even throw a coat of diamond over some other material. The practice is increasingly widespread and technologies are ever more subtle. The situation means both consumers and insurers need to be on their toes. The subterfuge can be difficult to detect initially, but problems do appear down the line.
One Insurer's Experience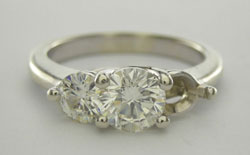 Here's what one lab encountered, when an insurer sent the lab a damaged ring for examination before settling a claim:
The ring had a center diamond with a smaller diamond on each side. One of the side diamonds had been damaged.
During the ring evaluation, the lab noticed that the damaged stone had some sort of coating that had partially worn off. Thinking it might be something like hairspray, the lab tried to clean it from the stone but could not.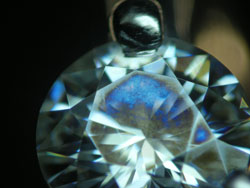 Blue area is partially worn-off coating
The lab also noticed that the facet edges of the stone were not as sharp as those of a diamond. Since diamond is so extremely hard, it can be cut to much sharper edge than any other stone, so this didn't look right.
In order to examine the stone further, the lab removed it from the ring. Now the appraiser could see needle-like inclusions, a type of inclusion that does not appear in diamond.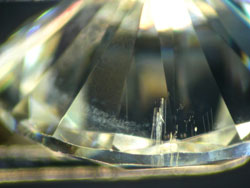 Needle-like inclusions, uncharacteristic of diamond
A Sarin analysis, which precisely measures the geometry of a stone and calculates what a diamond of such proportions would weigh, revealed that both side stones did not weigh what diamonds of that size would weigh. Nor did the actual weight of the stones match the weight given on the appraisal.
By now the lab was sure the two side stones were not diamond. They sent the two stones to the GIA (Gemological Institute of America) for indisputable identification.
GIA identified both stones as synthetic Moissanite, a much less expensive stone often used in jewelry to substitute for diamond.

Identification Report
The GIA's reports, meant only to identify the stones, did not mention the coating. Yet, it was the coating of diamond on both stones that fooled the eye into believing the stones themselves were diamond.
Some points to consider:
All 3 stones in the ring had originally been appraised by a respected jeweler as diamond!

Was the seller guessing? Did he just believe the gem supplier, without examining the stones himself? Did he examine the stones but not notice their un-diamondlike characteristics? Or was this deliberate fraud?

Synthetic moissanite is much cheaper than diamond. The consumer believed her ring to be diamond and presumably had paid for diamond. She was cheated.

The ring had been insured as diamond, so the consumer was paying higher premiums than she should have been. She was again cheated.

Had this been a total loss rather than a damage claim, the settlement would have been based on a diamond ring, and the insurer would have been cheated.

The GIA's Identification Report did not mention the coating. Nor did it even note that the moissanite was "enhanced," as it surely was.

How typical is this experience? How many consumers have been taken in? How many insurers don't bother to have salvage examined?

How many different coatings are out there? As more coatings come to market, will even GIA have the equipment needed to detect them?
Some manufacturers of diamond coatings are very upfront about what they make and sell. Serenity Industries, for example, markets its Diamantine™ as a "diamond alternative." Serenity's proprietary process coats a stone such as moissanite with a thin film of minute diamond particles, each particle having the physical and optical properties of diamond. What the eye sees is diamond, the stone underneath is not, but the company is not trying to fool the buyer.
However, as with all these new technologies, there are many players in the game. Not all of them are honest. As various companies develop different coating technologies and want to keep them secret, detection becomes more and more difficult. Appraisers and labs that identify gems and detect treatments must always be on the lookout for the unexpected.
FOR AGENTS & UNDERWRITERS
One significant lesson from this insurer's experience is the importance of having a trustworthy appraisal from a qualified gemologist appraiser who is independent of the seller.
A qualified appraiser is one who has a GG, FGA+, or equivalent degree, preferably one who has additional insurance appraisal training. One course offering such additional training is the Certified Insurance Appraiser™ (CIA) course of the Jewelry Insurance Appraisal Institute.
New gem treatments are continually being developed. They are increasingly sophisticated and their detection may require special instruments that large labs can afford but that are beyond the means of the average appraiser.
The appraiser should be able not only to recognize treatments (or "enhancements"), but also to notice unusual details that may indicate something beyond his expertise or resources. In such a case, he would advise sending the stone to a lab such as GIA.
A diamond appraisal should explicitly state that the stone is natural and untreated; or it should state that it has been treated or "enhanced."
FOR ADJUSTERS
Inspect the appraisal and diamond report carefully for terms suggesting that the stone has been enhanced or treated. More specific terms to look for include coated, irradiated, HPHT, and CVD.
Such information is sometimes not obviously stated, but this is an instance when one word can mean a tremendous difference in valuation!
Also check for brand names, as brands are associated with certain kinds of merchandise. Serenity, for example, indicates diamond-coated moissanite. If there are brands or terms that you don't understand, consider consulting a jewelry insurance specialist before settling the claim.
On a damage claim, ALWAYS have the jewelry examined in a gem lab that has reasonable equipment for the job and is operated by a trained gemologist (GG, FGA+ or equivalent), preferably one who has additional insurance appraisal training, such as a Certified Insurance Appraiser™.
©2000-2018, JCRS Inland Marine Solutions, Inc. All Rights Reserved. www.jcrs.com
Subscribe to Jewelry Insurance Issues