Grading the Color of Colored Diamonds
Grading the color of a colorless diamond is straightforward: the less color, the better. For colored diamonds, called "fancy colored diamonds," assigning a color grade is a more elaborate procedure.
Color in Diamonds
In colorless diamonds, "color" is basically a deviation from perfection. A colorless diamond receives the highest grade ("D"). A diamond with a slight brown or yellow cast, which muddies the look of the stone, is considered "off-color." For such not-quite-colorless diamonds, the more color, the lower the grade.
For fancy colored diamonds — the fairly small proportion of all diamonds on the market that are naturally colored with dramatic hues, such as pink, yellow, blue or green — assigning a color grade is more complex. It requires assessing the various attributes of what we call color.
Color Grading Systems
There are two systems internationally recognized for grading colored diamonds: the GIA system, developed by the Gemological Institute of America, and the HRD system, developed by the Antwerp Diamond High Council.
Both are based on color descriptions developed in the 1930s by the American painter and art instructor, Albert H. Munsell.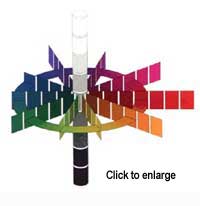 The Munsell system describes color according to how people perceive it. In this system, every color can be defined by three parameters:
hue, which we generally
think of as color;
tone or value, describing the lightness or darkness
of the hue; and
saturation or chroma,
describing the intensity of the hue.
The Munsell Book of Color is a collection of removable color chips catalogued according to the three parameters. Each parameter has a numerical value, so each color is described by a unique set of numbers, called its Munsell notation. (More about the Munsell color system.)
HRD closely follows the Munsell notation, adding certain words to the description to make the color more understandable to those who are not color experts. It gives a name to the hue, such as blue or yellow-green, and it gives a prefix based on the combination of value and chroma, using words such as faint, dark or intense. Ultimately, the tested diamond is compared to reference stones to ensure consistency, and the final decision is based on the judgment of several graders.
GIA's lab also uses Munsell's three color parameters to arrive at a color description. In grading colored diamonds, GIA locates the gem in a "color space" defined by its hue, tone and saturation. After determining the hue of the stone being studied, the examiner compares the gem with an extensive set of reference stones located at strategic positions in the color space. Areas in the space are associated with certain terms related to tone and saturation. Gems that fall in those locations are graded with those terms.
In either system, a diamond's color "grade" is actually a precise description of the gem's color.
It is important to be aware that the terminology used in grading is very specific. Descriptive words like intense, vivid, faint, light, dark and deep represent different appearances of color — and hence differences in price and valuation! The terms are not casual and they are not interchangeable.
Examination is always done under controlled conditions. The stone is viewed in a standardized viewing box, under light bulbs that have a specific color temperature. Because a gem's appearance can change dramatically under different lighting, such as fluorescent vs. indirect northern daylight, an accurate grade depends on controlled lighting.
Important:
Some jewelers may use other grading systems or even a nomenclature of their own. This is unacceptable. Unless the grade is based on a system that is widely followed and understood, and one that is standardized to produce repeatable results, the color grade is meaningless.
Synthetic and Color-Enhanced Diamonds
Intensely colored diamonds, called fancies, are very rare in nature. Recent technology offers various methods of creating colored diamonds in the lab (synthetic diamond) and of treating natural diamond to produce attractive colors. Neither synthetics nor color-enhanced diamonds have the same value as natural fancy colored diamonds.

GIA grades natural colored diamonds. It also grades natural diamonds that have been subjected to HPHT (high pressure and high temperature) treatment to improve their color, and it identifies them as color-enhanced. GIA does not grade synthetic diamonds.
HRD grades only natural colored diamonds. It does not grade synthetic stones or color-enhanced stones.
For a discussion of color treatments for diamonds, see the January 2005 issue. For more about synthetic colored diamonds, see the February 2005 issue.
FOR AGENTS & UNDERWRITERS
For a color grade to be useful, the appraiser must follow a generally accepted system with a nomenclature that is understood. A Certified Insurance Appraiser™ (CIA) using the insurance industry's standard Jewelry Appraisal, ACORD 78/79, follows the GIA system, describing each stone's hue, tone and saturation.
Fancy colored diamonds are extremely rare in nature, some colors being rarer than others, and are priced accordingly. Synthetic and color-enhanced diamonds may be marketed — and priced — as if they were naturally colored diamonds. Customers, and even some jewelry retailers, may be fooled, but insurers can avoid being taken in. Be sure the appraisal is written by a trained gemologist who recognizes color treatments and synthetics, such as a CIA.
If the selling price seems too good to be true, this is probably not a naturally colored diamond.
Do not assume a fancy colored diamond is natural if that is not explicitly stated in the appraisal.
Do not assume a fancy colored diamond is untreated if that is not explicitly stated in the appraisal.
If a fancy colored diamond is presented as natural, look for a GIA or HRD lab report. These certificates are such important selling tools that retailers usually supply them. (At the same time, be sure a certificate is from either of these two highly respected diamond graders, and not from some less reputable lab.)
FOR ADJUSTERS
If a fancy colored diamond is presented as natural, look for a GIA or HRD lab report. Be sure the certificate is from either of these two highly regarded diamond graders, and not from some less reputable lab.
Remember that color grade terminology is very specific. Be sure the replacement price is based on the exact grade of the diamond.
For a damage claim, have the jewelry inspected in an accredited gem lab before settling. You want to be sure the diamond is of the quality represented on the appraisal.
For a total loss, index the appraisal's valuation to the date of the appraisal to calculate what the price would have been at that time. This approach can determine whether the valuation is consistent with a natural fancy colored diamond, or with a color-enhanced or synthetic stone.
Consider consulting a jewelry insurance professional to assist in settling claims that require jewelry, as well as insurance, expertise.
©2000-2018, JCRS Inland Marine Solutions, Inc. All Rights Reserved. www.jcrs.com
Subscribe to Jewelry Insurance Issues