Pink Diamonds: From Astronomical to Affordable
Just last December a 5-carat diamond set world auction records by selling for the remarkable price of $10.7 million. That's $2.1 million per carat! What's so special about pink diamond?
A short answer is: scarcity. Natural pink diamonds are so rare, most jewelers will probably never see one.
Of the hundreds of thousands of diamonds graded each year by the Gemological Institute of America labs, only 5% are strongly saturated colors called fancies, and only a tiny fraction of those fancies are classified as pink.
Almost all those valued pinks come from one source, the Argyle diamond mine, located in a remote corner of Australia. Each year, a small number of the very best pink diamonds are offered in an exclusive sale known as the Argyle Pink Diamond Tender. For every million carats of rough pink diamonds produced by the mine, only one carat is of high enough quality to be offered for sale at the tender.
Pinks are pink because of their structure. Many fancy diamonds derive their color from impurities embedded in the gem material, but pinks get their coloration from a process known as plastic deformation. While the crystal is growing, intense pressure changes the lattice structure of the diamond, producing what we see as a spectrum of pinks, from pastels to deep purple-reds.
If pink diamonds are so rare, what are the chances that you will be called upon to insure one?
The key here is that natural pink fancies are rare and ferociously expensive. But thanks to technology, even consumers who are not royalty or gem investors or billionaire celebrities can own pink diamond jewelry and want to insure it.
Color-Enhanced Diamonds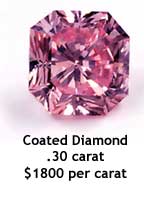 Various enhancement techniques are used to make pink diamonds that are affordable. HPHT (high pressure high temperature), color coating, and irradiation are popular treatments for improving diamond color. They can change a brownish, unattractive diamond into a beauty of vibrant, deeply saturated color.
A color-enhanced diamond can be a great buy, since its price is a fraction of that of a natural fancy. The treatments are generally considered to be permanent. However, color enhancement does not change the quality of the stone. Though the treated diamond appears more attractive to the unaided eye, under a jeweler's microscope it is still revealed to be a lower-value stone.
Because of the huge price difference between natural fancies (including pinks) and color-enhanced stones, it is essential to the buyer and the insurer that color-enhancement treatments be disclosed on the appraisal.
Synthesized Gems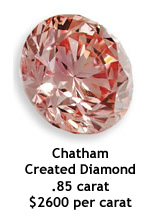 Diamond growers do fairly easily what nature does rarely: produce richly colored diamonds, including pinks. Manufacturers of synthetic diamonds can flaunt not only their spectacular colors but also their attractive prices, a fraction of the price of a natural fancy. Consumers can get a great value on a lab-grown pink diamond, whereas a natural pink would be well beyond their means.
Disclosure of the gem's synthetic origin is important all down the selling chain. Labs that produce diamonds are proud of their products, advertise their names, and include descriptions of the process for consumers. But by the time you are insuring the piece, its papers may become "lost" and the gem could be passed off as a mined diamond.
One clue to distinguishing a natural fancy colored from a lab-grown gem is the diamond report. Mined fancies almost always come with a GIA diamond report. (If a colored diamond is represented as a natural fancy, insist on a diamond report from a reputable lab.)
If a gem is striking and the price is right, a buyer may not care whether the diamond comes from the earth or from a lab, but for an insurer pricing a replacement that difference is crucial.
FOR AGENTS & UNDERWRITERS
As colored diamonds become increasingly popular, insurers must be extremely careful. A reliable appraisal is vital, as the valuation for natural fancies is far higher than for color-enhanced diamonds or synthesized stones.
An appraisal for colored diamond should

state whether the diamond is natural or synthetic, and
name any treatments or enhancements.
An appraiser of colored diamonds should
be a Graduate Gemologist, preferably also a Certified Insurance Appraiser™
have experience dealing with colored diamonds,
examine the stones on specialized gem lab equipment,
be familiar with current technologies for enhancing diamonds, AND
be able to distinguish natural from lab-grown diamond.
Lab-made diamonds can be difficult to detect. Laser inscriptions on the girdle, identifying the manufacturer, may be concealed when the stone is in a setting.
Improperly trained (or dishonest) retailers and appraisers may pass on synthetic diamonds as naturals.
Never assume a diamond is natural just because the appraisal doesn't mention man-made/lab-grown/synthetic. The appraisal should specifically state that the gem is natural.
Lab equipment, developed by DeBeers and others, allows gemologists to distinguish synthetic from natural diamond, but the cost of this equipment is beyond the means of many jeweler/appraisers. Therefore, when insuring colored diamonds represented as natural, insist on a Diamond Report from a reputable lab which employs the best technology available.
GIA, AGS and GCAL are respected authorities in diamond grading. Not all diamond certificates come from trustworthy labs. See Spotting a Bogus Appraisal for details.
The GIA now grades synthetic diamonds. The heading on the GIA document specifies that the report is for a "synthetic colored diamond," and the description includes the phrase "laboratory grown."
There's an increasing problem with counterfeit diamond reports. To verify authenticity of a certificate, follow the appropriate link. You will need the report number and the carat weight of the stone.
GIA Report Check
AGS Report Verification
GCAL Certificate Search
Remember that even a reputable diamond report is not a substitute for an appraisal. A diamond report does not describe the jewelry as a whole, including metal, setting, etc., and it does not give a valuation.
It is best to have a detailed JISO 78/79 (formerly ACORD 78/79) appraisal from a competent and experienced jeweler/appraiser who is a Graduate Gemologist (GG) and a Certified Insurance Appraiser™ (CIA).
FOR ADJUSTERS
The price difference between natural and synthetic diamond is immense, as is the difference between treated and untreated diamond. An overpayment could be tens of thousands of dollars or more.
If the appraisal does not explicitly state the diamond is natural, use every means possible to determine whether it is natural or synthetic. Be especially diligent with colored diamonds.
If there is a diamond report, be sure to verify its authenticity using the links above.
Inspect the appraisal for terms that mean synthetic, such as grown, created, lab-made, and cultured. Also look for the terms treated or enhanced. Pay attention to the fine print and symbols on the report.
Be sure to scrutinize the appraisal and sales receipt. If the sale price is too good to be true, the gem is probably synthetic, treated, or an imitation.
On a damage claim for a high-priced diamond, always have the piece examined by a qualified gemologist, such as a Certified Insurance Appraiser™, to determine whether the diamond is natural or synthetic (and to be sure its qualities are as stated in the appraisal).
Makers of synthetic diamonds use their names to market their products. Recognizing these names, or working with a jewelry insurance expert who does, could save you tens of thousands of dollars on a claim.
©2000-2018, JCRS Inland Marine Solutions, Inc. All Rights Reserved. www.jcrs.com
Subscribe to Jewelry Insurance Issues