What counts in valuing a diamond?
On May 15, a spectacular 101.73-carat diamond sold for the record-setting price of $26.7 million. The gem was called "the most perfect diamond ever offered at auction."
Where do such prices come from? What makes a diamond "perfect"? And does this diamond, this sale, have anything to do with the average diamond engagement ring an agent is likely to insure?
Size counts
Of course the size of the diamond counts. Everyone knows that. The stone that sold for more than $26 million was of remarkable size, but value is not simple math. A 100-carat diamond is worth considerably more than the price of a 1-carat diamond multiplied by 100, because larger stones are very much rarer.
So, for example, according to one current pricing guide, the supplier's cost for a round brilliant D IF diamond of:
1 carat = $20,000 per carat
3 carat = $90,000 per carat
5 carat = $148,000 per carat ---and so on.
The per-carat price indicates why today's typical engagement ring hovers around 1 carat. By 3 carats, prices are climbing steeply.
Carat weight is the most talked-about attribute of a diamond, but it's only one determinant of valuation.
Shape counts
Of the many shapes diamonds are given, round brilliant is by far the most popular. Other shapes have lower prices because, among other things, they are less desirable, less marketable.
For example, two different shapes for a diamond of the same size and quality (a 1-carat D IF diamond):
Round brilliant = $20,000 per carat*
Emerald cut = $11,000 per carat*
Color & Clarity count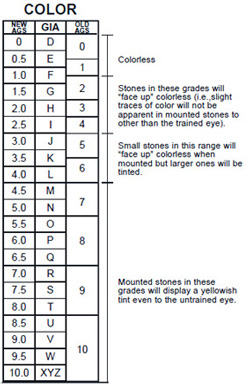 In the examples above, "D" represents the color grade of the diamond. D is the highest color grade in GIA's diamond grading scale, meaning the gem is perfectly colorless, with no hints of yellow or tan. Diamonds of high color grade are more rare, hence more valuable.
"IF" (internally flawless) in the above examples is the clarity grade. (Follow link for an explanation of clarity grades.) Again, rarity is the issue. The fewer flaws, or inclusions, in the diamond, the more it's worth. The diamond that sold at auction was not only exceptionally large, but it also had the highest color and clarity grades.
Most consumers will choose to compromise on color and clarity in order to get the size diamond they want, usually under 2 carats. Insurance records show that the typical engagement ring sold today has a diamond of color grade G-H and clarity grade VS1-2 (very slightly imperfect). A diamond of these grades with will not appear to be off-color to the untrained eye and its inclusions cannot be seen without a microscope. It's the desired size and it looks good.
For comparison, a 1-carat round brilliant diamond of:
D color & IF clarity (highest color & clarity) = $20,000 per carat*
G color & VS1 clarity (typical color & clarity choice) = $7,000 per carat*
Cut counts, too!
Cut, the 4th "C" of diamond quality, is crucially important and we have covered that in a previous issue. For a thorough discussion, please see Cut grade for diamonds.
Grade fudging & fraud
Given the importance of color and clarity when it comes to valuation, here's one more comparison. Suppose this happens:
A 2.5-carat diamond is:

Color grade H & clarity grade VS1 = $12,000*
If its description is inflated by just 1 color grade and 2 clarity grades, its value jumps by a third and it becomes:
Color grade G & clarity grade VVS2 = $16,000*
Many diamonds sold these days come with "certificates" produced by labs that are known to inflate qualities (and hence valuation). As we have often warned, a diamond certificate is only as good as the lab that produces it.
Certificates with inflated qualities and inflated valuations are pervasive in the marketplace and they serve only as sales tools. Both the consumer and the insurer are being victimized. The consumer cannot make a visual judgment but must take the word of the seller and the certificate as to the gem's qualities. A diamond cert with inflated color and clarity grades also undermines comparison shopping. And ultimately, an insurer who bases a settlement on inflated qualities and valuation winds up overpaying.
For impartial diamond grading, we recommend a diamond report from the Gemological Institute of America (GIA).
Investments, bandwagons & bubbles
Just for the record, it should also be noted that those who purchase unique, collector gems might be buying them for investment purposes. This may or may not be a good idea. It can happen that jewelry from the collection of a famous person, such as Elizabeth Taylor, will sell for stratospheric prices. But a decade later, when the focus of collectors and the public is elsewhere, the jewelry may be worth much less than the buyer paid.
Some experts in the field believe we are experiencing a diamond bubble as far as prices, and that values may well drop dramatically. So, while color, clarity and size will always matter in valuing a diamond, what the exact value will be in the future is unknown. In any case, diamonds of the size and quality most people are buying are not investment material because these gems are less rare. In addition, consumers have no easy market for reselling gems or jewelry—at least not at prices found in the typical retail marketplace.
*All prices listed reflect supplier's cost.
FOR AGENTS & UNDERWRITERS
Be wary of an official-looking lab report (or "gem report" or "diamond description" or "summary of appraisal" or whatever it is called) that carries a valuation. Valuation is not a lab's business, but an appraiser's.
Exaggerating color or clarity by even one grade significantly inflates a gem's valuation, and the larger the stone, the greater the discrepancy. Be sure the gem description comes from a reliable source.
Be especially careful insuring purchases from shopping networks and internet sites, especially eBay. These sellers rely a lot on hype and rarely disclose all information about the jewelry.
All scheduled jewelry should have an appraisal and a lab report. Ask for a diamond report from GIA, known to be a reliable and impartial lab.
Unless you, the agent, point out the potential for fraud, your client may not see the need to have a new purchase appraised by a disinterested appraiser or examined by a reputable lab. You may save your client from a potential scam.
Preferably, the appraisal should be on JISO 78/79, written by a trained gemologist (GG, FGA+, or equivalent), with additional insurance appraisal training. One course offering such additional training is the Certified Insurance Appraiser™ (CIA) course of the Jewelry Insurance Appraisal Institute, Oakland, CA.
Always ask for a sales receipt. Valuation is based on what the jewelry would sell for in the marketplace, and a sales receipt is the most accurate reflection of that.
FOR ADJUSTERS
Disreputable or non-existent labs can say anything on a certificate and never be called to account. Avoid basing a settlement on a report from a lab you do not know to be reliable.
Compare all available documents—appraisal, lab reports, sales receipt, etc., to be sure descriptions match.
In pricing a replacement, use descriptive information from the certificate or appraisal to get competitive bids. Do not automatically turn to the seller for replacement, especially if it is a large retailer.
©2000-2018, JCRS Inland Marine Solutions, Inc. All Rights Reserved. www.jcrs.com
Subscribe to Jewelry Insurance Issues