Credential Conundrum
Here's an underwriter's dilemma: The insured has submitted a jewelry appraisal, but how does the underwriter know he can trust what it says? How does he know the appraiser is qualified to reliably identify gems and assign value to jewelry?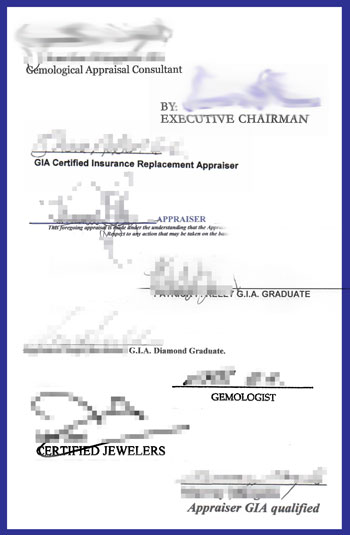 It's not a trivial issue. Literally anyone can call himself an appraiser and write appraisals without any formal gemological training at all. There is no official body regulating jewelry appraisers.
Every day underwriters see formal-looking appraisal documents signed by appraisers with official-sounding credentials or titles that reveal nothing about the appraiser's expertise or training.
Let's look at some appraiser "credentials."
These examples are taken from appraisals recently received by one insurer. The signatures are deliberately not shown in the photos since we're only considering the credentials, the title the appraiser gives under his signature as evidence of his expertise. Also, shortcomings of the appraisals themselves are not discussed, as that would require another whole newsletter or two (and that may come down the line). This is just a look at credentials—or lack thereof.
Gemologist A gemologist is someone who studies gems, who is interested in gemology. The word sounds substantial, but anyone can call himself a gemologist. The word says nothing about proficiency or training in identifying gems or assigning value.
Gemological Appraisal Consultant The signer of this appraisal cannot even admit to being an appraiser. One might well conclude that this person – being just a "consultant" – did not, in fact, write the appraisal. Who did examine the jewelry to verify its quality and then use that information to assign a value? One suspects that the jewelry details in the appraisal came from a boiler-plate description given by the jewelry supplier. One might further suspect that the valuation is inflated.
Executive Chairman This one is a little scary. It identifies a strangely-titled official in the company's hierarchy, and that's a far cry from indicating gemological training.
Certified Jewelers In this case, Certified Jewelers is the name of the store. Under the appraiser's signature it looks like a title, but it's just the name of the seller—like Zales or Costco. The phrase "Certified Jewelers" sounds impressive, but it doesn't mean that either the store or the appraiser was "certified" by any independent body.
Not-good-enough titles
As we've noted in the past, the GIA (Gemological Institute of America) is a highly respected lab. It offers a 6-month course of study and hands-on lab work in diamonds and colored gems, leading to a Graduate Gemologist (GG) degree.
Because GIA is so highly regarded, there's a lot of fudging to take advantage of the GIA name. For example, a student who takes a single class might decide to call himself a GIA graduate. However, mentioning "GIA" along with the appraiser's signature is not good enough; "GIA" does not equal "GG".
Appraiser GIA qualified Qualified for what? If he were a GG, he'd say so.
GIA Diamond Graduate GIA's Graduate Diamond diploma comes at the end of a 7-week course in diamonds (not the 6-month GG training). It does not include any study or lab work involving colored gems.
GIA Certified Insurance Replacement Appraiser This is not a GIA credential. "Insurance Replacement Appraiser" denotes a function or position, not a level of expertise, and GIA does not "certify" such a position.
GIA Graduate GIA offers many courses. For example, one 5-day course teaches sales personnel how to talk to customers about jewelry. Anyone passing any GIA class could conceivably call himself a GIA Graduate, but that's not the same as being a Graduate Gemologist. Again, if he were a GG, he'd say so.
Best Credentials
We recommend that insurers look for the following credentials:
GG Graduate Gemologist, trained at GIA.
FGA+ Fellow of the Gemmological Association of Great Britain. (The + is important in this title. It means that the titleholder has taken and passed the advanced courses in both gemology and diamond.)
CIA Certified Insurance Appraiser. A CIA is a GG or FGA+ appraiser who has additional training in appraising for insurance.
An appraiser with any of these degrees would put the initials after his name, as they attest to his expertise.
FOR UNDERWRITERS
Recommend that policyholders obtain appraisals on the JISO industry standard forms. The JISO appraisals are in a standardized format, making it is easy for underwriters to determine that all necessary information is included.
FOR ADJUSTERS
If you are not working with a JISO 78/79, 805, or 806, use JISO 18 to organize data from various documents, such as appraisals and diamond reports. If too much information is lacking and the jewelry's valuation is substantial, consider consulting a jewelry insurance expert to avoid overpayment.
When pricing a replacement, use your JISO 18 evaluation. Do not give the replacement jeweler the appraisal valuation. Replacement quotes are generally 80-90% of the valuation, which may well be higher than retail if the valuation was inflated to begin with! You will get a more honest price if you have the jeweler submit a bid based on the jewelry's description rather than on the appraisal valuation.
A valuation that is well above the selling price is probably inflated. Base the settlement on the description of the jewelry, not its valuation.
©2000-2018, JCRS Inland Marine Solutions, Inc. All Rights Reserved. www.jcrs.com
Subscribe to Jewelry Insurance Issues