Every Picture Tells a Story
Often the story is told best in a picture. That's why we strongly recommend that every appraisal include one or more pictures of the jewelry. Consider these situations:
Reinventing the Word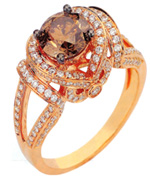 Usually "solitaire" means one, alone. That's what you'll find in a dictionary, and that's how jewelers generally use it. In jewelry, a solitaire is a ring with a single stone. But look at this recent illustration from a major industry journal. This ring—with a large center diamond surrounded by many smaller stones—was described in the caption as a solitaire. A client who lost this ring would be very disappointed to have it replaced by a ring with just a single stone!
See what exactly was lost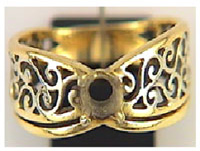 The insurer paid the damage claim on this ring as a total loss, but only the single stone was lost. It's clear from the picture the stone could have been easily replaced. Overpayment: $2,656
Too complex for words
An appraiser can assign value to jewelry, but a piece may be beyond words to describe. Only a picture can get its story across.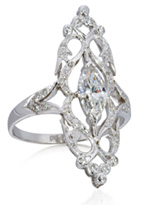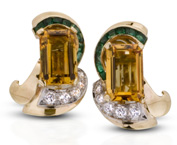 Have a "Before" picture
A good photo shows the state of the jewelry when it is insured. It guards against false claims of subsequent damage.

For example, a damage claim was filed for this diamond, but the stone was not damaged at all. The third picture shows, very clearly to a jeweler, that what appears to be damage actually are inclusions in the stone. The claim should not have been paid at all. The insurer's overpayment was $7,542!
The printed picture—and the fine print
A client may receive from the retailer a certificate bearing a picture of the jewelry along with a description. Examine the certificate closely. Sometimes there will be fine print stating that the picture does not necessarily show the jewelry described. This means it's just a generic photo, more illustration than representation. You need to have a picture of the specific jewelry being insured.
That lost ring looks unique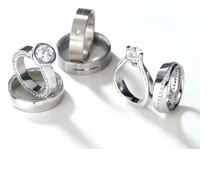 A piece may have many stones or an unusual design. You may have a picture of the lost piece, and to you the jewelry looks unique. Don't immediately jump in and pay the full limit of liability! Use that picture.
Appraisals rarely mention the jewelry's manufacturer (as they should), but an experienced jeweler might recognize the piece as a standard item. For example, this illustration, showing some unusual rings, comes directly from a manufacturer's catalog. The jeweler could order a duplicate from the manufacturer at well below your limit of liability, resulting in significant savings.
By the way, most jewelry you see is not unique. For a more complete discussion of the non-uniqueness of jewelry, see One of a Kind—Or Not.
Does the jewelry exist—and does your client own it?
Those two questions are the basis for everything on file. But suppose the appraisal, the diamond certificate, the sales receipt, all describe a piece of jewelry that's already been lost. Or perhaps the documents are forged and the jewelry never existed. Suppose you're being set up for a false claim.
This danger is the reason some insurers ask how long the agent has known the client, or whether the jewelry has been previously insured with another carrier. Evidence of the jewelry's existence and the client's reliability helps weed out fictitious claims in advance. Another precaution is simply to see the jewelry yourself—and take its picture.
Do It Yourself
A small setup with digital camera and lighting will suffice. Often the client in your office is wearing the jewelry, especially with engagement rings and wedding sets. A remark of admiration for the jewelry goes a long way in customer relations. And taking a few moments to photograph the jewelry will impress the client with your thoroughness and attention. One insurer we know even has schedules that include the jewelry's photo along with its description, a very appealing feature for jewelry owners! A good photo is also useful in settling claims.
FOR AGENTS & UNDERWRITERS
Be sure to get a picture of the jewelry!
FOR ADJUSTERS
Make use of the picture when pricing a replacement. It often reveals details that are not on the appraisal.
A photo may show that damage can be repaired at far less expense than a total-loss payout.
©2000-2017, JCRS Inland Marine Solutions, Inc. All Rights Reserved. www.jcrs.com
Subscribe to Jewelry Insurance Issues
Become a Certified Insurance Appraiser™ and be a Preferred Provider of appraisals for insurers and consumers.
Next class is May 15-18, 2017 in Louisville KY.
More Info Sign Up