Watches: What to Watch For
The short story:
There's more to a identifying a fine watch
than manufacturer, style and serial number.
The Longer Story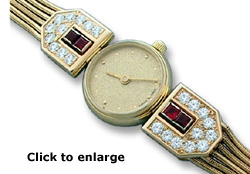 Manufacturers of fine watches, (Rolex, Cartier, Patek, etc.) identify each model of watch by style and serial number. In addition, most manufacturers have separate model numbers for parts of the watch, such as the dial, bezel or band. All these numbers should be on the appraisal.
Watches may contain gemstones, and the gems (as well as the metals) can differ on bezel, case, dial, and strap. These variations may or may not be reflected in the style number, so an appraisal should describe in detail the metals and gems on each of these watch parts.
But there is still the question: Is the watch—and each of its parts—genuine?
Fakes. The most common fake is made by using a popular name-brand watch — let's say a Rolex. Counterfeiters then dress it up by adding on non-Rolex parts, such as gemstone bezel, dial or strap.
For example: A popular model Rolex is steel and gold. Counterfeiters might buy a steel watch and substitute gold for some of its parts, like the bezel or some links in the band. But they often use 14-karat gold, rather than 18 karat. And the pieces are usually cast rather than die-struck.
Or they might change the inside, for instance putting a 35-year-old Rolex movement into a recent-model watch case. The case appears new and bears a recent model number, but the old movement does not have today's quick-adjust features. Watches with any such after-market modifications are not regarded by the manufacturer as genuine Rolexes, and they don't have the value of authentic Rolexes.
In other cases, the entire watch is counterfeit. These are often fabricated in countries that don't recognize U.S. patents, copyrights, or intellectual property rights.
Watch manufacturers spend millions of dollars each year in their efforts to foil counterfeiters. The market for fakes is so huge that there is even a submarket, consisting of books and Web sites, on how to recognize counterfeit watches.
Most high-end manufacturers sell their products only through authorized dealers. Sometimes these authorized dealers, pressed for cash, may sell down their inventory to retailers who are not authorized. However, the watches sold by unauthorized dealers are regarded by the manufacturer as "used," even though they have not been previously worn.
Most fine-watch manufacturers do not allow their watches to be sold on the Internet. They explicitly state this on their web sites, and direct potential customers to their authorized dealers.
Yet name brand watches are blatantly sold on the net. Typically they are heavily discounted but they do not carry the manufacturer's guarantee. The seller may give a limited warrantee on working parts, but does not warrant that all parts of the watch are genuine. Should the watch need repair at a later date, the owner will again be settling for second best. Fine-watch manufacturers will not work on watches "of questionable origin"—that is, not from an authorized dealer.
Watch Appraisals. Appraising fine watches is not within the competence of all jewelers. Authenticating a watch entails more than just regurgitating model and serial numbers. One must be trained to judge the authenticity of the watch and all its parts, recognizing non-authorized "after market" add-ons as well as out-and-out fakes.
Your best move is to consult a Certified Insurance Appraiser™. If he himself is not specifically trained to authenticate that particular brand, he has resources to call upon for this expertise. A CIA understands that authentication is crucial to the valuation of a fine watch.
FYI: Some Watch Terms
Movement: mechanism that drives the hands or digital display.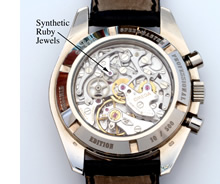 A jeweled movement is powered by a mainspring. After the spring is tightly wound, the coil gradually unwinds, thereby powering the gears. The movement bearings are made from jewels (synthetic rubies), each milled, cut and polished to a high degree of exactness. There are usually 7 to 23 jewels. More jewels do not necessarily ensure greater accuracy but they reduce friction in the watch.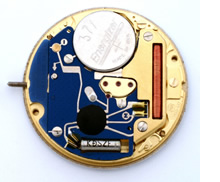 A quartz movement uses oscillating quartz and sophisticated electronic circuitry. It is more accurate than the spring-wound mechanism.
The dial is the face of a watch, which is the background for the hands and shows the hours. Dial markings and hand styles vary greatly.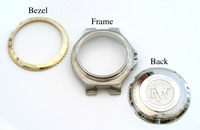 The bezel is the part of the watch that holds the crystal to the case.
The frame is the center of the case, with end pieces or legs to which the watchband is attached.
The back is the part that rests on the wearer's arm. Some manufacturers put a foil hologram on the back of the watch. It easily shows wear and its purpose is to prevent a used watch from being passed off as new.
In better watches, the crystal is made of colorless synthetic sapphire, because sapphire is much harder than glass or plastic (often used in fakes).
Shock Resistance is a feature of all quality watches. There is no way to make a watch movement "shockproof." A watch is considered shock-resistant when a drop from one meter (about 40 inches), or the shock equivalent to that impact, will not: a) stop the watch movement; b) damage the glass or crystal, bend the hands, or damage the case; or c) change the rate by more that 60 seconds a day.
Water Resistance means resistance to damage from water leakage, as during bathing or swimming. Watches are tested to withstand water leakage at pressures experienced by divers under water. Such pressures are measured in "atmospheres." An atmosphere is 4.7 pounds per square inch, or the amount of pressure at a depth of 33 feet of water. A watch rated at 10 atmospheres can withstand the pressure of water to a depth of 330 feet.
FOR AGENTS AND UNDERWRITERS
Be sure the appraisal lists the manufacturer, and all style numbers and serial numbers on the watch.
Any gems on the watch, and the metal of each part, should be described in the same detail as for a piece of gem jewelry. A picture is always helpful, especially if the watch contains gemstones.
It's important to know what you're insuring – you want to be sure the watch is genuine and not a knock-off. This means the appraisal should be done by a dealer trained to authenticate that brand, or by a Certified Insurance Appraiser™, who has the resources for obtaining proper authentication.
For any fine watch, a statement like the following should appear on the appraisal:
"All watches have been personally inspected by the appraiser, and watches, watch parts, and accessories, including but not limited to bands, cases, bezels, dials, and attachments, are genuine parts supplied by the watch manufacturer (unless otherwise stated)."
FOR CLAIMS
Watch claims are relatively infrequent, and settlement should be easy. If the appraisal lists the manufacturer, style and serial number, replacement can be straightforward.
Seek a replacement only from an authorized dealer for that brand. Do not be tempted to shop in the huge market that exists for watches with unauthorized, aftermarket add-ons. There are probably more such counterfeits available than original pieces from fine-watch manufacturers, but such modified watches are not considered genuine. (Of course, if the claim is made on a watch that used after-market parts, you should adjust the settlement accordingly.)
Watches are highly competitive. Even going through an authorized dealer, you may be able to get a steep discount. If necessary, consult your jewelry expert for assistance in getting the best price on an authentic brand-name watch from an authorized dealer.
A note on depreciation: There is a significant market in vintage watches. Most people believe jewelry can only appreciate in value. This is a mistaken belief about jewelry in general, and especially so about watches. A 20-year-old Rolex President, for example, might sell for about a third the price of a current one.
©2000-2018, JCRS Inland Marine Solutions, Inc. All Rights Reserved. www.jcrs.com
Subscribe to Jewelry Insurance Issues