Princess Cut:
The Black Sheep of Diamonds

They're likely to get into trouble, these princess cut diamonds. Likely to get chipped, damaged. Likely to have to be replaced. Why is that?
It's a matter of shape
Round Brilliant Cut
| | |
| --- | --- |
| | The "princess cut" diamond, on the other hand, is square when viewed from the top. Four corners are exposed for damage. This shape is so vulnerable that some jewelry experts characterize it as an accident waiting to happen. |
| Princess Cut | |
Diamonds are reputed to be quite hard. Do they really damage so easily?
Diamond is, indeed, the hardest gem. In gemological terms, hardness means resistance to scratching. A diamond can scratch other gems, but nothing can scratch a diamond except another diamond. Cutting and faceting of diamonds can be done only with other diamonds because only diamond can cut diamond. Their hardness also allows diamonds to take a high polish, which enhances their scintillation.
Toughness, however, refers to the ability of the gem to resist breakage, as from a blow or fall. Diamond's toughness rating is only fair to good. Those sharp corners do make the princess cut diamond more vulnerable.
It comes down to carat weight
The princess shape was invented to get the biggest gem out of a piece of rough stone. Customers may not know much else about how to judge a diamond, but they will pay more for size (carat weight). As discussed in our last newsletter, cutters often sacrifice beauty for a higher carat weight. Similarly, the princess cut sacrifices durability for carat weight.
What does it mean to the insurer?
Insurance companies have been routinely paying damage claims for chipped corners on princess cut diamonds. Really, they should NOT be paying on such claims. These vulnerable corners constitute inherent vice, and their chipping should be excluded by the policy. However, this would be difficult to enforce since past practice has been to pay on such damage claims. Policyholders might sue for bad faith claims practices. A better approach would be to exclude all damage on princess cut diamonds.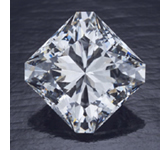 We hope that the jewelry industry will follow the lead of Sirius, a Canadian company that has modified the princess cut by clipping the tips off the corners. This does lighten carat weight somewhat but it also reduces the likelihood of damage. Sirius sells the modified princess cut under the name Arctic Empress™. These stones are truly cut for beauty.

FOR AGENTS & UNDERWRITING
First of all, exclude breakage on all princess cut diamonds.
Two other common shapes, though less popular than princess cuts, also have a high vulnerability to damage because of sharp points. Though you may be unfamiliar with the names of diamond shapes, the photo included with the appraisal will show points vulnerable to damage.
| | |
| --- | --- |
| | |
| | |
Regarding inherent vice, shape is not the only consideration. In a diamond of any shape, poor cut proportions can produce places vulnerable to damage. A common problem is a girdle that is too thin.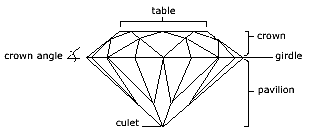 Points along the girdle may be covered by prongs in the setting. Note, however, that the points are still likely to break under stress. A lot of princess cut diamonds incur point chipping when the stone is set, removed for resetting, etc., but prongs then hide the earlier damage.
A good appraisal, prepared on ACORD 78/79/805 forms, will disclose all cutting information. If the girdle is described as "very thin" or "extremely thin," exclude damages on that stone.
FOR CLAIMS
Caution: Some shapes are so open to damage that breakage on such diamonds should be excluded because of inherent vice. See discussion above.
In a gem of any shape, poor cut proportions can produce places vulnerable to damage, such as a too-thin girdle. A detailed appraisal will give all cut proportions. From such an appraisal, an experienced jeweler can determine whether cut proportions were so poor as to constitute inherent vice.
NEXT ISSUE
©2000-2018, JCRS Inland Marine Solutions, Inc. All Rights Reserved. www.jcrs.com
Subscribe to Jewelry Insurance Issues