How Fancy Is Brown?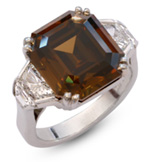 Fancy Brown Diamond
Click to enlarge
Champagne, cinnamon, chocolate, honey, cognac, caramel, nutmeg, butterscotch, espresso, clove, café au lait . . . . These tasty terms are used to describe diamonds. They sound a lot better than "off-color, yellowish diamonds" or "brown diamonds."
What is this champagne?
Most diamonds with a yellow or brown cast were once the rejects of the jewelry industry. If a "white," or colorless, diamond had a tinge of color, its value went down. Except for deeply saturated colors, called fancies, color in diamond was not good. Typical yellow and brown diamonds were not considered gem quality and were relegated to industrial use.
Now, in a triumph of marketing, brown diamonds are in fashion. Yellow diamonds, from honey to clove, are displayed by high-fashion designers and highlighted in the jewelry department of your local J.C. Penny. There is even an online seller dealing exclusively in "champagne diamonds."
C1-C7 Grading Scale?
The Argyle diamond mine, which produces most of the champagne diamonds, openly promotes its products as yellow and brown. It has devised its own color-grading scale, which goes from C1 to C7 -- from "light champagne" to "cognac."
The C1-C7 scale is an attempt by Argyle mines to bypass the widely respected Gemological Institute of America (GIA) grading system in order to boost sales on its yellow and brown stones. Graded by GIA standards, these diamonds wouldn't look good.
The system established by the GIA, and recognized throughout the world, grades white diamonds on a scale ranging from D (colorless) to Z. As you go down the scale, stones appear increasingly tinted and off-color. Other qualities being equal, the lower the color grade, the lower the valuation.
The C1-C2 "light champagnes" would be at the bottom of GIA's scale for white diamonds. The "cognac" colors, C3-C7, would fall at the lower end of the GIA scale for colored diamonds, or fancies.

In short, the C1-C7 grading scale is a marketing tool and has no relevance to insurers. Diamond appraisals, and diamond certificates, should follow the GIA color-grading system.
Is it a fad?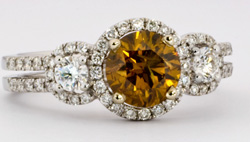 Brown Fancy Diamond
Click to enlarge
Brown has become the "in" color — for clothing, for interior decorating, and for diamonds. As usual, stars are setting the trend, with brown diamond rings, pendants, and watches. At the Academy Awards a few years ago Maria Menounos wowed the crowd in a $2.5-million dress made of champagne-colored diamonds — 3,000 carats worth.
Rio Tinto, owner the Argyle mine, released a flood of materials promoting yellow and brown diamonds to jewelry manufacturers and to the public. The colors are widely shown in jewelry chain stores. Champagne diamonds may be selling now, but will their value hold when the fashion passes?
For insurers, the solution is to be sure the appraisal uses the GIA grading scale. This will accurately represent the color of the diamond, so the gem's value can be determined at time of loss.
Is it a fancy?
Yellow Fancy Diamond
Click to enlarge
Fancy is the term for deeply colored diamonds. True natural fancies are rare and most are expensive. These are not off-color, faint or pastel shades, but more deeply saturated colors.
Fancies derive much of their value from the quality of their color. GIA grades fancies, like other colored gems, using specific gemological language to describe tone, saturation and hue. "Cognac" is not gemological language.
It is possible to have a brown fancy diamond, but not every diamond that's called "butterscotch" or "espresso" has the color — or the valuation — of a fancy. The GIA system gives a precise color description.
And: is it natural?
Beauty is in the eye of the beholder but, as an insurer, what you care about is valuation.
A number of labs synthesize diamonds. The popular push of "champagne" colors could be a boon for diamond growers, since yellows are easy to produce. In marketing, these lab-made stones are often compared with natural fancies. Although synthetic diamonds are visually and chemically the same as mined diamonds, the difference in value between natural and synthesized fancy diamonds is huge.
If a diamond is lab-grown, that origin should by law be disclosed to the buyer. This is not always done, or the disclosure may be only verbal. To avoid a future overpayment, be sure the appraisal specifically states that the diamond is either natural or synthetic. This is especially important for diamonds represented as fancies.
A mined diamond can be treated to enhance its color—so the stone is natural, but its color isn't. A low-quality yellowish stone can be turned into a rich, glowing yellow. However, though the stone may look more attractive to the consumer, a trained gemologist can see the truth.
Color-treated stones are often low quality to begin with, and upping the color is a way to rescue them and make them more salable. (See January 2005 JII for a discussion of irradiation and hpht treatments to enhance diamond color.) But if a diamond has fractures or inclusions, changing its color doesn't eliminate those flaws. Its poor clarity still lowers valuation. Also, the color treatment may not be permanent, and the insurer is not responsible for the failure of a gem treatment. Be sure the appraisal states that the diamond is untreated.
FOR AGENTS & UNDERWRITERS
To properly insure diamonds, you needn't keep up on fashion trends in jewelry. Just be sure you have a trustworthy appraisal. An appraisal on JISO 78/79, by a Certified Insurance Appraiser™, is best.
Such an appraisal will
use standard gemological language and descriptions
follow GIA grading systems
state whether a diamond is natural or synthetic
state whether any color treatments have been used
give a fair and accurate valuation
For high-value diamonds, it is wise to also have a grading report from a reliable lab, such as GIA.
Keep on file any gem descriptions such as the C1-C7 color scale, or other marketing materials your client may present, but remember these do not substitute for an appraisal.
FOR ADJUSTERS
If you have a JISO 78/79 appraisal, it should contain all the information you need to price a replacement.
If you are working with other documents, use JISO 18 to put all your information into a standardized format. This will organize the information you have and help determine whether any details are missing.
Carefully examine documents for synthetic or equivalent words: cultured, lab-grown, man-made, etc.
Examine the documents for the words treatment or enhancement.
Manufacturers of synthetic stones often use their names as brands. If you see a brand name, be sure you understand the significance of it, or consider consulting a jewelry insurance expert. The price difference between a natural and a synthetic fancy diamond can be immense.
©2000-2018, JCRS Inland Marine Solutions, Inc. All Rights Reserved. www.jcrs.com
Subscribe to Jewelry Insurance Issues