Branding Diamonds –
What do those names mean?
Manufacturers spend big advertising bucks to achieve a firm place in the public's awareness. A brand name of a product or its manufacturer sticks in the consumer's mind and becomes a likely choice at shopping time.
But now even diamonds, made by Mother Earth over millions of years, are getting brand names. What's that about?
Branding gems or jewelry can be about a number of things—the cut of the gem, its treatments, the setting in jewelry, the reputation of the seller, the politics of mining, the fabulous price—or sheer advertising.
For consumers and insurers, brands can often give significant information about the quality and value of the jewelry. Knowing what a brand does and does not reveal can be useful in insuring the jewelry or settling a claim.
A brand name may tell you . . .
Is it diamond?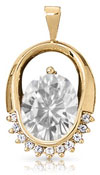 Charles & Colvard moissanite pendant
Simulants are fake diamonds, stones that aim to look like diamond but are made of a completely different material. Charles & Colvard advertise quality jewelry, including engagement rings, with moissanite stones. Diamond Nexus has its own proprietary mix to produce diamond simulant that the manufacturer claims is better than moissanite.
One of the latest technological advances is the ability to wrap a diamond coating around CZ—cubic zirconia—one of the oldest and cheapest diamond imitators. Serenity, Diamantine, Signity, EternityCZ, and Diamond Veneer are some of the names for such products and the companies that produce them.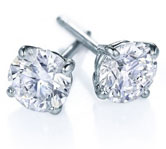 Diamantine stud earrings
These gems look like genuine diamond and, when examined by the usual means, could seem to be solid diamond. Special equipment reveals them to be merely diamond-coated, but the average appraiser probably doesn't have that equipment. Since these coated gems are mostly CZ, they are worth much less than real diamond, so these brand names are important clues in valuing the stone.
Is the diamond treated?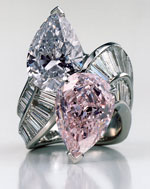 Bellataire diamonds
Some manufacturers are proud to produce a great-looking gem at a very affordable price. They accomplish this by subjecting a diamond to treatments, or "enhancements," to improve a gem's apparent clarity or color, thus making the gem more marketable.
Yehuda diamonds, for example, are clarity enhanced. The propriety Yehuda process conceals natural flaws (by fracture filling) and makes the gem more visually appealing.
Bellataire uses HPHT (high pressure and high temperature) to improve the color of a diamond, producing a deeper or richer color. Their advertising characterizes the treatment as restoring the gem to its intrinsic beauty.
For companies like these, gem enhancement is part of their marketing strategy. However, insurers should be aware that in many other cases the presence of treatments is concealed (whether fraudulently or out of ignorance) at the point of sale. Or, by the time the gem reaches the agent's desk, the descriptive material that was part of the sale has been lost (or "lost").
Because treated gems are valued at considerably less than untreated ones of similar appearance, you want to be sure of the quality of the gem you are insuring. Be certain the appraisal either states that the diamond is untreated or clearly lists the treatments.
Is it natural or synthesized?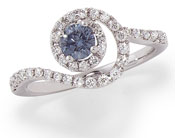 Chatham created diamonds
Synthesized, or lab-made, gems are as "real" as their mined counterparts. Chatham, which produces quality diamonds and other gems, says "Chatham does not make gemstones, we control environments in which crystals grow naturally." Gemesis, Apollo and other names may appear as brand names on lab-grown diamonds.
Synthesized diamonds have the same physical and optical properties as mined (or "natural") diamonds. Because they are grown under precise conditions, they typically have fewer flaws and inclusions than diamonds that come from the ground, though cut sizes are usually under one carat. Because they are currently worth less in the marketplace, it is important to recognize the brand names of cultured, or lab-grown, diamonds.
Caution: lab-made diamonds without disclosure
Does it match your politics?
Diamonds mined in war zones and sold through illegal channels are sometimes called conflict diamonds, or blood diamonds, with the profits going toward buying arms and funding insurgencies. The illegal trade often involves kidnappings, child soldiers, massacres and other atrocities. The diamond industry promotes strategies to avoid contributing to these activities, but the overall success of the industry's efforts cannot be precisely determined.
Some consumers look for better assurance that they are not supporting the underground diamond market. Diamonds mined in Canada, such as the Polar Bear brand, are advertised as politically clean. Note that this brand says nothing about the market value of the diamond; valuation still depends on the stone's intrinsic qualities.
Is it worth the price?
People usually assume that if they're buying a prestige brand, they are getting good quality. Jewelry from Tiffany, or from Angelina Jolie's Style of Jolie collection, benefit from this association. The consumer presumably likes the jewelry and feels it is worth the price.
For the insurer, there are other considerations. A consumer who buys a Tiffany ring, for example, is buying not just a ring but the Tiffany brand—and may well know he is overpaying just for that name. For a name brand like Tiffany, it is a good idea to insure the jewelry on the basis of agreed value. Other manufacturers may produce a similar style, but they will not be "worth" as much because they don't have the name.
In some cases, a brand is just a name. Hearts on Fire diamonds also draw premium prices because the name currently has cachet, but there is nothing unique about the Hearts on Fire diamond or its faceting. As with all diamonds, value depends on the gem's 4 Cs—clarity, color, carat weight and cut proportions. If a Hearts on Fire diamond were damaged, the insurer could replace it with a diamond of like kind and quality.
Moral of the story
The bottom line is that some brands are just names. Others convey important information about quality. Still others, like Tiffany, Harry Winston, etc., add perceived value and trade in the market at a premium.
This is by no means a catalog of all brand names out there. There are scores of brands, probably hundreds. This is just a reminder to pay attention to brand names and include brand literature with the appraisal and other documents.
For the adjuster, a brand can be a crucial clue in determining claim settlement. If the documents contain any brand names you are unfamiliar with, consulting a jewelry insurance expert can help you reach a fair and efficient settlement.
FOR AGENTS & UNDERWRITERS
Pay attention to brand names and keep on file any brand literature than comes with the appraisal documents.
Make no assumptions about the value of a brand. Be sure to get a detailed, descriptive appraisal on all scheduled jewelry.
It is important to have an appraisal from an appraiser who is aware of the current market. Even styles with prestige brand names can go out of fashion and lose value.
For high-value pieces, get two appraisals; at least one of them should be from an appraiser who has a Graduate Gemologist or equivalent degree, and preferably one who has advanced training in appraising for insurance, such as a Certified Insurance Appraiser™.
All diamonds of significant value should have a certificate from a reliable lab. Labs can afford the instruments needed to distinguish natural diamonds from their less valuable counterparts that are lab-grown, and instruments that can recognize diamond-coated CZ. We recommend the following labs and suggest that you use these links to verify reports you receive.
GIA Report Check
AGS Report Verification
GCAL Certificate Search
FOR ADJUSTERS
Pay attention to brand names. In the absence of a solid, detailed appraisal, a brand name can provide important information about value.
Reputable makers of synthetic diamonds and diamond-coated CZ attach their names to their products. Recognizing these names, or working with a jewelry expert who does, could save you tens of thousands of dollars on a claim.

As an insurer you are obligated to make the insured whole by replacing with like kind and quality. Some brands are nothing more than the manufacturer's name, while the product is pretty generic. These gems can be easily replaced with identical items from other manufacturers.
©2000-2018, JCRS Inland Marine Solutions, Inc. All Rights Reserved. www.jcrs.com
Subscribe to Jewelry Insurance Issues