Diamond Bubble?
The price of diamond has been rising. The price of gold has been rising. With prices continually going up, it seems like this is a good time to buy jewelry.
But what if this is a bubble?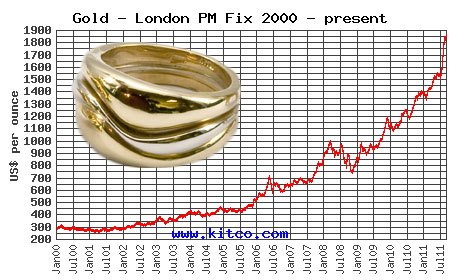 Most people buy jewelry because they love it, but they also have a sense that it will hold or increase its value. The current situation certainly supports that idea.
The price of diamond rough went up 27% in 2010, according to DeBeers, and it's still on the rise.
Gold has been in an increasingly steep climb during the past decade. As the world's economies falter, more and more people put their funds into gold as a safe haven. Silver prices, too, have begun going up.
Since jewelry manufacturers and retailers can pass on these higher costs to consumers, it may seem to be no problem for them.
Yet many in the jewelry industry are worried. The price rise has been so dramatic, they fear it will come to an end abruptly. This is what happened in the early 1980s, when diamond prices soared, then plummeted when the bubble burst.
Anxiety about that potential burst affects all participants in the jewelry market—and those participants include jewelry insurers.
Diamond and Gold in the 80s Bubble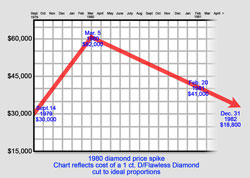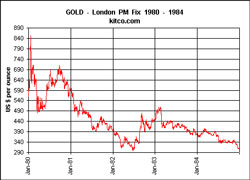 Jewelers
Jewelry retailers buy at the current prices. In a steady or gradually rising market, buying quantity is to their advantage. But if prices drop suddenly, they are caught with goods they must sell at a loss. So in today's market they are cautiously deciding how much to risk, how much inventory to stock.
At the same time, the economy is such that most consumers feel they cannot afford to pay high prices. So jewelers may alter the kind of jewelry they stock. They may carry more lower-quality gems, treated gems, lab-made gems.
Consumers
A consumer may intend to buy a 1-carat diamond engagement ring. In today's market, he may decide to settle for slightly smaller stone to keep within budget.
Consumers may also be lured by the low prices of color-treated diamonds, fracture-filled gems, synthetic gems, or even diamond simulants (fakes).
The jewelry's appraised valuation is (or should be) based on the current market value. Consumers may mistakenly regard the appraised valuation as representing the jewelry's intrinsic worth, feeling it will never decline in value. But jewelry is a commodity, with a value that is subject to supply, politics, weather, fashion, and so on. If we are in a pricing bubble and that bubble should burst (which some in the jewelry industry regard as inevitable), the value of the jewelry would also drop.
Insurers
Insurers have some important concerns during the current pricing spiral:
Danger of over-insurance
Settlements are based on the jewelry's value at time of loss. For quality jewelry, it is important to have a new valuation at least every two years, to reflect the rising or falling of the market. (Note, however, that the appraiser who did the previous appraisal will not be inclined to drop the valuation, so ideally using another appraiser would be best.)

If a policyholder insures jewelry when diamond values were high, and then prices fall precipitously, premiums should be adjusted accordingly. In the event of a loss, you would not want the policyholder to be outraged at a settlement so much smaller than expected, and then to accuse the company of over-insurance.
"Bargains" & other scams
In this difficult economy, many consumers are buying lower-priced jewelry. They may or may not be aware of quality differences. Retailers may be gliding over the fact that a diamond is color-treated or fracture-filled, or even that it is fake diamond covered with a film of genuine diamond. Often a buyer doesn't know what questions to ask.

Increasingly, and especially with these spiraling prices, consumers look on the internet for bargains. Auction sites urge buyers to act quickly, but offer more hype about the jewelry than information. Consumers who know little about how jewelry is valued can base purchases on carat weight and price alone, without considering the color, clarity and cut, which significantly affect quality.
Bad appraisals & bogus certs
Appraisals, especially those supplied by the seller (especially for jewelry purchased on the internet), may side-step quality issues. They can easily just leave off information that would lower the value of the jewelry — or would lose the sale.

Make every effort to obtain a detailed and reliable appraisal from a graduate gemologist who is independent of the seller. The best choice is a JISO 78/79 appraisal from a Certified Insurance Appraiser™.

Exaggerated valuations and unreliable "certificates" abound. A diamond report or certificate should only describe the gem's quality; if it also carries a valuation, it is functioning as a retail sales tool to say the jewelry is worth more than the selling price. Do not rely on the valuations or descriptions from such certificates.

High-quality diamond jewelry should have a certificate from a reliable lab. See below for the labs we recommend.
Outright Fraud
If diamond prices fall and a consumer becomes aware that the jewelry is suddenly worth less that he paid, he may decide to file a false claim based on the higher valuation of the old appraisal.

Be sure to base settlements on descriptive information about the jewelry. A JISO 78/79 appraisal carries a detailed description of all qualities needed to determine value.
FOR AGENTS & UNDERWRITERS
Be suspicious of appraisals, lab reports, or other documentation supplied by the seller. These docs often leave out information that significantly affects the value of the jewelry.
For all higher-value jewelry, ask for a second appraisal on JISO 78/79, written by a Graduate Gemologist who is also a Certified Insurance Appraiser™.
We recommend trusting diamond reports only from the following respected labs. You can follow these links to check the veracity of lab reports you receive.
Gemological Institute of America GIA Report Check
American Gem Society AGS Report Verification
Gem Certification and Assurance Lab GCAL Certificate Search
FOR ADJUSTERS
Base the settlement on descriptive information from the appraisal and lab report.
Color and clarity treatments substantially lower a gem's value. Check appraisal documents carefully for terms such as treated, enhanced, or fracture-filled.
Synthesized gems are only a fraction of the price of natural ones. Check the docs for synthetic, lab-made, man-made, or similar terms.
If there are any terms on the appraisals or other docs that you don't understand, it might be worthwhile to consult a jewelry insurance expert to avoid overpaying on a settlement.
©2000-2018, JCRS Inland Marine Solutions, Inc. All Rights Reserved. www.jcrs.com
Subscribe to Jewelry Insurance Issues