FTC Decides: Culture Is In!
In a ruling sure to give a boost to the synthetic gem industry, the FTC stated that the use of the term "cultured" to describe lab-made gems is not deceptive.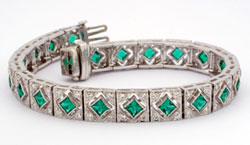 Chatham-created emerald bracelet
Gem manufacturers like to avoid the word synthetic in their advertising. It has connotations of imitation and fakery. "Cultured" is an agreeable alternative. It sounds so much more, well, cultured.
Others in the industry say it confuses consumers, who may not realize that a gem described as cultured is actually grown in a lab.
To those who deal in mined gems, the distinction between natural (mined) and synthetic is important to business. Lab-grown gems constitute a threat. Though chemically and optically identical to natural gems, they are much less expensive than their mined counterparts.
A group of 10 jewelry trade associations petitioned the FTC to amend its Jewelry Guides to state that using the term "cultured" to describe lab-created gemstones is deceptive and unfair.
A Brief History of "Cultured"

Chatham Created Emerald
The comfortable sound of "cultured gems" comes from our association with the term cultured pearls. When a foreign substance enters the oyster, nacre inside the shell surrounds the irritant and the result is a pearl. In nature, the irritant enters by chance; for cultured pearls, the irritant is purposely introduced.
This technique for farming pearls is about a century old, and it revolutionized the pearl industry. Today cultured pearls are far more numerous and less expensive than natural pearls. No one quibbles about the use of "cultured" for pearls.
For other gems, it's different.
Chatham Created Gems, which today grows diamond, emerald, ruby, sapphire and opal, has been involved in nomenclature battles since 1959, when the FTC ordered the company to cease using the phrase "Chatham cultured emerald." Founder Carroll Chatham chose not to pursue the issue with the FTC because of the huge legal bills and a court order requiring him to divulge exactly how his gems were cultured. Instead, he called his product "Chatham-created emeralds."
The arguments were the same then as now. Critics insist only pearls are cultured; other lab-grown gems must be called synthetic. Gem growers disagree.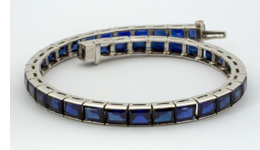 Cultured Sapphire Bracelet
Like pearls, emeralds and other gems are grown from a natural element in a controlled environment. Natural gemstones are crystals formed by heat and pressure deep in the earth. Tom Chatham explains that his company creates a similar heat and pressure environment using the same natural elements and even some of the natural gemstone, and nature does the rest (over a much speeded-up time span). Chatham, he says, creates the opportunity for growth to occur, "much as the flower grower does in a hot house."
The FTC decided not to amend its jewelry guidelines; its explanation actually fine-tuned the interpretation. The FTC Guides already required gems that are not natural be to qualified as "laboratory-created," "laboratory-grown," "[manufacturer-name]-created" or "synthetic." The guides don't deal with the term "cultured" at all.
The FTC decided it was not necessary to change the existing language. In determining deception in advertising, the FTC examines not just one statement but the net impression of the entire advertisement. The Commission said that using the word "cultured" is not deceptive, as long as one of the four terms quoted above is also part of the description.
Nature vs. Culture
Why does it matter? Gems made in a lab are chemically and optically the same as gems that come from a mine. They are the real thing, not imitations. So why does it matter what they're called?
As far as insurers are concerned, the difference is money.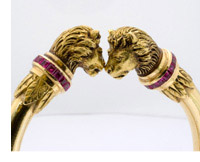 Bracelet with Cultured Rubies
Some things to keep in mind:
Synthetic gems sell for less than mined gems of the same quality—so the distinction is important.
As some gems are mined out, their natural counterparts become even more valuable because they are even more rare.
Some gems, such as emeralds, are highly included by nature. A synthesized emerald is likely to have much better clarity.
Gems such as fancy colored diamonds are extremely rare in nature and stratospheric in price. They can be made in a lab much more cheaply.
As more companies go into the gem-growing business, lab-grown gems become more publicized and more accepted by consumers. For jewelry buyers, whether a gem is natural or synthetic is likely to become less important than the price.
Technology is improving so rapidly that synthetics become increasingly difficult to distinguish from natural stones. Gemologists need more training, experience and equipment to detect the differences.

Chatham Created Diamond
All of these considerations affect the valuation of both natural and synthesized (cultured/lab-grown/created) gems—both now and at the time of some future loss.
All of these conditions also make fraud easier and more tempting.
It is crucial that a jewelry appraisal identify stones as either natural or synthetic. And it is essential that the adjuster look for, and recognize, terms that signify synthetic stones.
FOR AGENTS & UNDERWRITERS
As synthetic gems become increasingly popular, insurers must be extremely careful. The price difference between natural and synthetic gems can be immense.
Gem growers are generally proud of their product and use their name in marketing. Be sure to collect all information about brand names, which can be helpful in determining valuation and may signal a lab-grown stone.
Never assume a gem is natural just because the appraisal or sales receipt does not mention synthetic. For high-value jewelry, insist on an appraisal that states the stone is either natural or synthetic.
For colored diamonds, insist on a Diamond Report from a reputable lab, such as GIA, which uses the best technology available.
Lab-grown stones can be difficult to detect. Training and special equipment are necessary. Laser inscriptions on the girdle, identifying the manufacturer, may be concealed when the stone is in a setting. Improperly trained (or dishonest) retailers and appraisers may pass on synthetic gems as naturals.
For colored gems, be sure the appraisal is written by a trained gemologist experienced in dealing with colored stones.
Your best bet is to have a detailed JISO 78/79 (formerly ACORD 78/79) appraisal from a competent and experienced jeweler who is a Graduate Gemologist (GG) and a Certified Insurance Appraiser™ (CIA).
FOR ADJUSTERS
The price difference between natural and synthetic gems can be immense. An overpayment could run to tens of thousands of dollars.
Inspect the appraisal and other documents for terms that mean synthetic, such as grown, created, lab-made, and cultured.
Pay special attention to brand names, as makers of cultured gems use their names to market their products. If there are brand names or terms you don't recognize, consider consulting a jewelry insurance expert.
If the appraisal does not explicitly state the gem is natural, use every means possible to determine whether it is natural or synthetic. Be especially diligent with colored diamonds.
On a damage claim for a high-priced gem, always have the piece examined by a qualified gemologist, such as a Certified Insurance Appraiser™, to determine whether the stone is natural or synthetic (and to be sure its qualities are as stated in the appraisal)

©2000-2018, JCRS Inland Marine Solutions, Inc. All Rights Reserved. www.jcrs.com
Subscribe to Jewelry Insurance Issues