Tanzanite – December's stone
This year is the 45th anniversary of the discovery of tanzanite, and the gem has been officially declared a birthstone for December. So tanzanite will likely be a popular gift during the upcoming holidays. Here's some of its story, a little about its hype, and a few things insurers should know about this new blue stone.
Tanzanite formed in the ground over 500 million years ago, but it's fairly new to us humans. The story is that a Maasai tribesman in Tanzania was herding his cattle when he came upon some bright blue crystals on the ground. At first the stones were thought to be sapphire, but they turned out to be a different mineral altogether.
Tiffany & Co. named the new discovery after its country of origin. An early publicity campaign proclaimed that Tiffany and Tanzania were the only places on earth where tanzanite could be found. Today it's on Caribbean cruises, shopping channels, and all over the internet.
Color, Clarity, Rarity
Much tanzanite rough is brown when it comes from the earth but heat treatment produces colors that can range from light blues and lilacs to deep indigos and violets. The treatment is undetectable but is assumed, and the colors are considered to be stable.
An attractive feature of tanzanite is pleochroism, which means it displays different colors from different directions. It usually looks violetish blue from some directions, purplish from others. Tanzanite is often compared to sapphire—and is sometimes fraudulently used to imitate that stone. Tanzanite is typically very clear, with few inclusions, even in larger stones.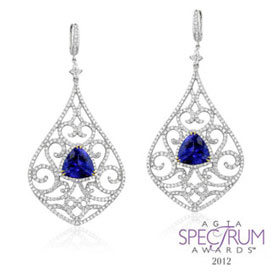 Rarity is a great selling point for Tanzanite retailers.
Unlike diamond, which is mined in more than a dozen countries all around the world, tanzanite is found in only one place, a patch of a few square miles in the foothills of Mount Kilimanjaro. One expert says that, because of the unique geological conditions in the area, the chance of Tanzanite occurring anywhere else in the world is about a million to one. At current production rates, the existing mines will probably run dry in 25 years.
The gem's single source and limited supply make it at least a thousand times rarer than diamond, according to the Tanzanite Foundation. One tanzanite site hyped it as "the most precious and sought after jewel in the world." This is pure puff-up, but some jewelers are acquiring tanzanite now so they'll be ready as the supply diminishes and prices go up. "There's a new generation that does not own important pieces of tanzanite, and the market is about to bloom," declared one jeweler.
Value
At the upper end of quality are such beautiful designer pieces as the graceful earrings by Yael Designs (above) that sell for $57,825 and the Tiffany brooch with a bow of diamonds (top of the page) selling for $105,000.
But tanzanite jewelry covers the gamut in quality and price, and a number of internet sites are already on the bandwagon, offering some much lower-priced pieces.
The example below shows a pair of earrings priced at $769. But notice that the ad claims: "Retail Value: $1,610." A selling price more than 50% below retail is extremely unlikely. The selling price is probably a more accurate indication of value, which is why we always recommend that the insurer ask for the sales receipt.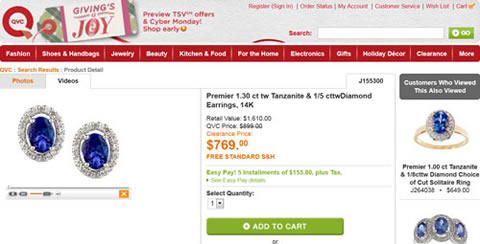 This ring shown below has both imitation diamonds and imitation tanzanite. Such inexpensive costume jewelry would not be insured, but fake gems are meant to fool. At the price point where jewelry is being scheduled, the insurer should be sure that a qualified gemologist-appraiser has examined the jewelry and written the appraisal and valuation.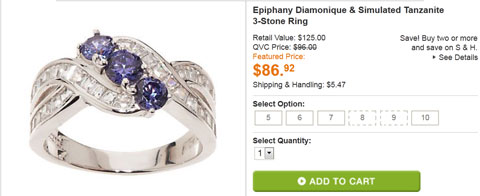 Appraisals & Certificates
JTV (Jewelry Television) has dozens of videos on youtube promoting its tanzanite jewelry. One shows an appraisal for a stone valued at $3,970. The video does not state the selling price of the stone described, so we don't know if its valuation matches its selling price. As in the earring example above, a large discrepancy between selling price and valuation would suggest an inflated valuation.
An appraisal or certificate that is provided by the seller and that carries a valuation should not be relied upon, as it is in the retailer's interest to overstate the quality and/or value of the jewelry. Unfortunately, among internet jewelry retailers, inflated appraisals are quite commonplace. When insuring high-value jewelry, the agent should ask for an appraisal prepared by a qualified gemologist appraiser who is independent of the seller. The sales receipt is also useful in determining inflated valuations.
Some Further Caveats
Exotic appeal should not be underestimated. Tanzanite sells particularly well to American tourists on cruises in the Caribbean, and audiences at sea are a captive market. Vacationers in general tend to spend more freely, buying on impulse rather than comparison shopping. Any jewelry marketed to tourists may be overpriced or misrepresented, so the insurer should be wary of insuring such purchases. Again we urge: For high-value items, always require an appraisal from a qualified gemologist-appraiser independent of the seller.
Though a customer may be swept away by beauty, insurers should be aware that tanzanite is not suitable for all types of jewelry. It is a brittle material and easily chipped, so it's not the best gem for rings and bracelets, where the stone is vulnerable to impact. Tanzanite is also very sensitive to heat. It is likely to shatter if exposed to ultrasound cleaning or to a jeweler's torch during cleaning or resetting. Even common acids, such as vinegar and lemon juice, can cause irreparable damage.
In covering such jewelry, an underwriter might want to pay special attention to damageability and inherent vice.
Tanzanite pricing and values vary a great deal. The lighter colors are less valuable than intense colors, and even retailers will comparison shop because pricing continues to be in flux.
For insurers, this means:
Be sure the appraiser is experienced in dealing with colored gemstones.
In settling a claim, be sure the settlement is based on current valuation.
FOR AGENTS & UNDERWRITERS
Swindlers are taking advantage of the current popularity of tanzanite by introducing imitations, especially to unwary tourists. Be sure any jewelry purchased out of the country, on the internet, or under unusual circumstances, is backed up by an appraisal that meets the insurance industry's standards, the JISO 78/79 appraisal.
With tanzanite, as with all colored stones, it is essential that the appraising jeweler be trained and experienced in dealing with colored gems. He must be able to recognize imitations and synthetics; he must know the market for the gem he is examining and be aware of frauds and scams that may be current; and he must be able to describe, in proper gemological language, the color and quality of the gem.
For high-value pieces, get two appraisals; at least one of them should be from an appraiser who has a GG, FGA+ or equivalent degree, and preferably also has advanced training in appraising for insurance, such as a Certified Insurance Appraiser™.
Because tanzanite is very susceptible to breakage and chipping, it is an unwise choice for rings and bracelets. If you are insuring such tanzanite jewelry, consider imposing coverage limitations.
FOR ADJUSTERS
Be suspicious of any damage reported after cleaning or resetting tanzanite. This gem's fragility is an inherent vice.
On claims for colored gem jewelry, it is best to rely on a JISO 78/79 appraisal by a jeweler who regularly deals in colored gems. If such an appraisal is unavailable and other documents on file are inadequate, consider consulting a jewelry insurance expert who can help determine the accuracy of the appraisal.
Tanzanite is sometimes sold (and may be insured) as sapphire. For damage claims, be sure to have the jewelry examined in a gem lab to verify its identity and quality.
©2000-2018, JCRS Inland Marine Solutions, Inc. All Rights Reserved. www.jcrs.com
Subscribe to Jewelry Insurance Issues