"Hearts & Arrows" Diamonds
Hearts & Arrows seems like the new buzzword in the jewelry industry. The phrase often appears on appraisals and diamond reports, and a recent class-action lawsuit revolved around misuse of the term.
What does Hearts & Arrows mean? How important is it for insurers? Does it signal higher value?
You may have seen the phrase on appraisals or diamond certificates, often prominently featured. It's used in jewelry ads, and there are web pages devoted to describing and praising hearts & arrows.
Early this year a class-action lawsuit was brought against Helzberg Diamonds (a Warren Buffett Berkshire Hathaway company), which ranked 4th on National Jeweler's 2010 list of top North American retail jewelry chains. The suit argued that Helzberg falsely claimed all the diamonds in its Masterpiece Collection displayed hearts & arrows, thereby denying consumers "the value and benefits of a hearts and arrows diamond."
What is "Hearts & Arrows"?
Thanks to modern optical science, improved precision tooling, and new age technology, today's diamonds can be faceted so they appear more brilliant and attractive than was possible in the past.
"Hearts & arrows" is a side effect that results from cutting a Round Brilliant diamond.
A diamond with this faceting will, when viewed through its table (that is, from the top), show a pattern of "arrows" radiating from the center; viewed through its pavilion (that is, from the bottom), the gem will show radiating "hearts".
When scientists first noted the display they dubbed it the cupid effect. Now it is called hearts & arrows.
A few things to remember:
Hearts & Arrows functions as a sales tool, successful because of its romantic overtones. It is not a brand name. It does not, in itself, indicate value.
A display of hearts & arrows that is sharp and well defined is evidence of a well-cut Round Brilliant diamond. However, a poorly cut diamond, with a dull or awkward display, might still be called hearts & arrows.


"Hearts & arrows" displays in Round Brilliant diamonds of 4 cut qualities: excellent, very good, fair and poor


A diamond has greater value when it is well-cut, regardless of whether or not it is called "a hearts & arrows diamond."

Device for viewing Hearts & Arrows effect.

The hearts & arrows effect can be seen only by a gemologist using specialized equipment. It cannot be seen with the unaided eye.
With few exceptions, the hearts & arrows effect can appear only on a Round Brilliant diamond, because of the way the stone is faceted.
In the Helzberg suit, the plaintiff argued that her Princess cut diamond (a square stone), from the company's Masterpiece Collection, was not hearts & arrows as advertised. The company denied the charges.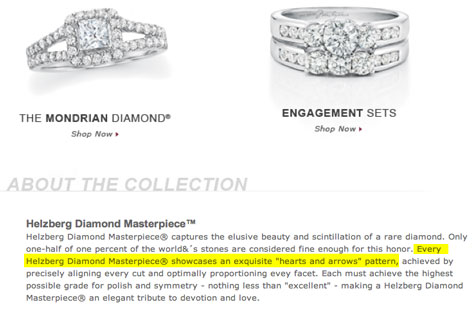 The text says that "every Helzberg Diamond Masterpiece® showcases an exquisite 'hearts and arrows' pattern." However, in the above picture the ring on the left has a square center stone — and square stones rarely display the hearts & arrows pattern.
According to court papers, Helzberg "vigorously denies" any wrongdoing or liability, but agreed to settle the case to avoid the expense of further litigation. The plaintiffs basically got the option of returning their jewelry for a refund, the lawyers made a bundle on the case, and the hyping of hearts & arrows continues.
FOR AGENTS & UNDERWRITERS
Hearts & Arrows is not a brand and it is not, by itself, an indication of quality.
Diamonds are valued according to the 4 Cs: color, clarity, carat weight and, most especially, cut proportions. This is the information to look for on the appraisal and diamond report.
For high-value jewelry, ask for an appraisal written on JISO 78/79 by a Graduate Gemologist, preferably one who is also a Certified Insurance Appraiser™.
FOR ADJUSTERS
Hearts & Arrows is not a brand, and it is not trademarked. Any seller may use it.
Brand names can be clues to a diamond's value, and there are some brands with similar names (e.g., Hearts on Fire, Hearts for Eternity). But Hearts & Arrows is not a brand, and it's not an indicator of value.
If the appraisal or other documents contain names or terms you don't understand, you may want to consult a jewelry insurance expert.
©2000-2018, JCRS Inland Marine Solutions, Inc. All Rights Reserved. www.jcrs.com
Subscribe to Jewelry Insurance Issues