The Newest Diamond Substitute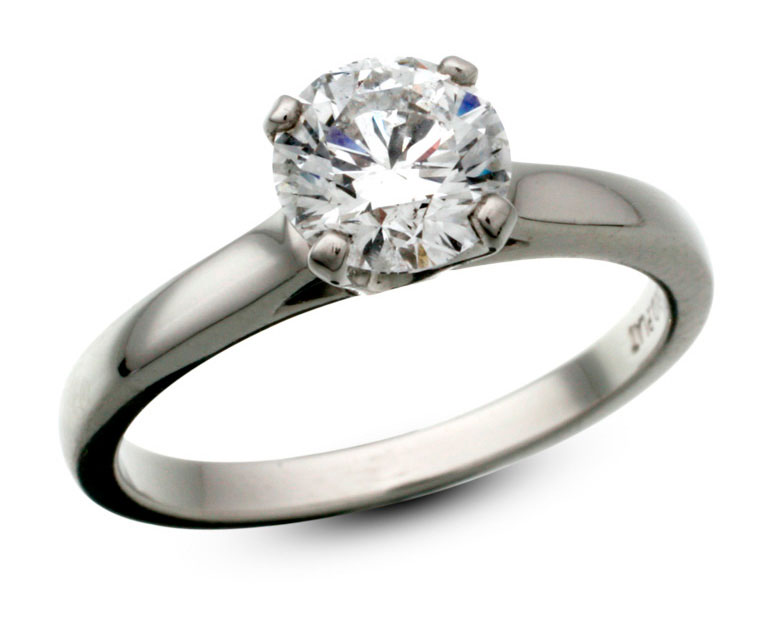 Diamond? — Or diamond-coated?
(Click to enlarge)
It looks like diamond because what you are looking at is diamond—but maybe it's not diamond through and through. Maybe it's just diamond-coated CZ.

Cubic zirconia—CZ—is about the cheapest material used in "gemstone" jewelry. Diamond is one of the most expensive. CZ has the worst reputation, an imitator, a substitute that tries to pass. Diamond has the highest rep, a diamond is a girl's best friend, and is forever. CZ prefers to conceal its identity. Diamond brags and struts. This is not quite a marriage made in gem heaven.
Two companies have come up with a process for coating a piece of CZ with a very thin layer of synthetic diamond particles. Serenity Technologies markets its creation as EternityCZ, and Zirconmania calls its stone Diamond-Veneer.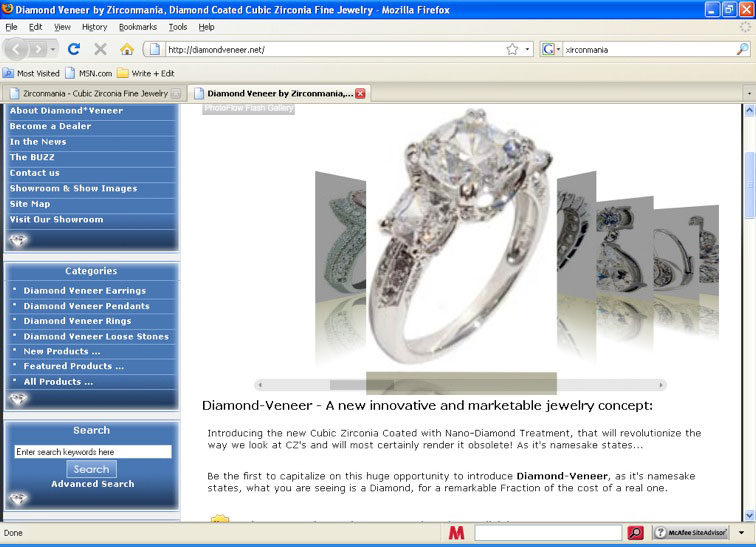 Reports are that the hybrids are visually indistinguishable from real diamonds, even by expert gemologists. The coated stones can be properly identified in a gem lab by their weight, hardness, thermal conductivity, chemical components and other features. But to you and me, they look like diamonds.
This triumph in technology is good news for jewelry customers, who will be able to get the diamond look for a fraction of diamond's cost. It also promises good business for jewelers who sell it.
For insurers, it presents yet another reason to be cautious about appraisals and valuations.
Here's what we know:
Visual inspection, without using gem lab equipment, is inadequate for properly identifying gemstones and simulants. Yet many jewelers rely on it for appraising. In one TV investigation, half the jewelers consulted mistook a simulant (moissanite) for diamond.
Most jewelry retailers do not have gemological training. An insurance industry study found that only 21% of jewelers writing insurance appraisals were graduate gemologists.
Most appraisals are not sufficiently detailed. The same study found that almost half the diamond appraisals submitted neglected to mention carat weight! A jeweler/appraiser who omits something so obviously important is unlikely to see beyond the veneer of a coated CZ.
Papers get lost. Diamond-Veneer and EternityCZ may be marketed as diamond-coated CZ, because the creators are proud of their innovation. But then the papers might get lost (or "lost"), and maybe the appraiser is untrained or careless and describes the stone as diamond. You don't want such an error on an appraisal you rely on for settlement.
Fraud is always in season. A stone that looks like diamond can easily be passed as diamond. Suppliers may mix in fakes with real diamonds when they sell to retailers. Retailers who don't verify the quality of their stones in a gem lab—or retailers who have themselves been taken in and want to recoup their losses—may pass on the fakes to customers.
Brand names can matter. Recognizing the manufacturers of simulants, and the brand names of their products, will help you avoid being taken in.
Technology rushes on. Right now there are two companies producing diamond-coated CZ. We can expect more to come.
FOR AGENTS & UNDERWRITERS
Your best protection against fraud is a reliable and detailed appraisal. For high-value jewelry, it is best to have a JISO 78/79 appraisal, prepared by a Graduate Gemologist who is a Certified Insurance Appraiser™.
A diamond report from a reliable lab is a useful verification of the diamond's authenticity and quality. Reliable grading labs include GIA, AGS, and GCAL (see the August 2008 issue for a detailed discussion). Reports from other labs may not be reliable, especially if they include valuation.
FOR ADJUSTERS
Comb the appraisal and other documents on file for words like simulant, imitation, coated, treated or enhanced. All these terms lower the value of a diamond.
Look for brand names. Serenity Technologies, EternityCZ, Zirconmania, and Diamond-Veneer all suggest diamond-coated CZ.
Other brand names can often identify a stone as a simulant (fake diamond) or synthetic (real diamond made in a lab). Synthetic gems have a lower value than natural ones; simulants, or imitation diamonds, have only a small fraction of the value of natural diamond of the same quality.
If you encounter brand names you are unfamiliar with, it might be worthwhile to consult a jewelry insurance expert before settling the claim.
For all high-value diamond jewelry, use every means possible to be sure the diamond is not synthetic, enhanced, or an out-and-out fake. A mistake in this regard would result in serious overpayment.
©2000-2018, JCRS Inland Marine Solutions, Inc. All Rights Reserved. www.jcrs.com
Subscribe to Jewelry Insurance Issues