Blue Diamonds: cool, rare and expensive — sometimes
Blue diamonds are the best blues to have. The famous ones are big, gorgeous and pricey. Less famous ones come in all qualities and valuations—and it's important to be aware of that when the appraisal crosses your desk.
Natural fancy blue diamonds are a rarity, but they're in the news again. In December the 35.56-carat Wittelsbach Diamond sold at auction for $24.6 million, a record price. Like the Hope Diamond, surely the most recognized name gem in the world, it dipped in and out of history as it traveled from hand to hand among royalty and the wealthy over the centuries. Both stones are gorgeous blues. The 45.52-carat Hope Diamond is now owned and displayed by the Smithsonian Institution. The Wittelsbach will probably become the centerpiece of a piece of jewelry.
Colored diamonds are so rare in nature, it used to be only the wealthy could own them. They tended to wind up in crown jewels and royal treasuries, occasionally making their way into museums so the rest of us could get a look. But technology is changing the game.
What makes them blue?
In the Earth
A white, or colorless, diamond is pure carbon. But a trace of this or that can add color. Nature has several ways of producing diamonds with blue as the dominant color. Most often, blue comes from the presence of a bit of boron in the structure of the diamond. Blue, or greenish blue, can also be the result of natural irradiation. The presence of nitrogen, hydrogen or nickel can produce blue diamonds with a violet cast. Natural blue diamonds of good quality command a very high price.
Color Enhancement in the Lab
Diamond treatments to add color have been around for centuries. Early methods involved painting the stone, or backing a mounted stone with foil so it appeared blue (or some other color of choice). These applications were all temporary. They were easily detected and could be easily removed.
Today's color treatments are more sophisticated and more durable. Modern gem technology takes its cues from nature.
Labs use high pressure-high temperature (HPHT) annealing on gray-to-brown stones to make them blue. Or technicians irradiate the stone, just as natural irradiation in the earth produces blue in diamond. High-tech coatings, much stronger and subtler that the primitive versions, can effect different bluish hues, even the rare blue with a violet cast.
Note to Insurers: Color treatment is used to enhance the appearance of the diamond and to increase its market value, so treatments are generally applied to low-quality, off-color stones. The treatment changes the diamond's appearance to the naked eye, but a color-treated diamond is worth considerably less than a natural fancy diamond of similar appearance.
A well-trained eye and advanced analytical instruments are needed to detect the treatment. And this will be increasingly true as gem treatments become more sophisticated.
When you review an appraisal, remember that most jewelers writing appraisals for insurance are not trained gemologists. Jewelers who do not have the expertise or equipment to examine the merchandise they sell must simply rely on the word of their supplier. Even without intending fraud, they may pass on color-treated blue diamonds as though they were much more valuable natural fancies.
It's best to have a JISO 78/79 appraisal from a Certified Insurance Appraiser™ who has experience in selling colored diamonds and can distinguish natural fancies from color-enhanced stones. The appraiser should be familiar with current enhancement technologies and know how to look for distinctive signs of color treatments.
Synthesized Blue Diamonds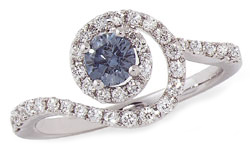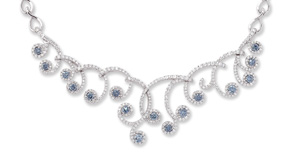 Synthesized Diamonds
Photo courtesy of
Chatham Created Gems
(click to enlarge)
Labs can just make blue diamond from scratch. They make them just like Mother Nature does, by incorporating boron into the growth process.
Gem-quality diamonds have been manufactured for almost 40 years, but production has increased dramatically in the last decade. Some of the biggest diamond-producing labs today are Chatham Created Gems, Lucent Diamonds Inc., and Gemesis Corp.
Note to Insurers: Synthesized diamond is real diamond, with the same optical and chemical properties as mined diamond. However, distinguishing between the two is important because natural fancy colored diamond has a much higher valuation than lab-made diamond.
An appraiser of blue diamond should be a graduate gemologist who has experience dealing with colored diamonds, the equipment to examine the stones, and the expertise to distinguish mined from lab-grown diamond.
FOR AGENTS AND UNDERWRITERS
As colored diamonds become increasingly popular, insurers must be extremely careful. Accurate description on the appraisal is vital, as the valuation for natural fancies is far higher than for color-enhanced diamonds or synthesized stones.
An appraisal for colored diamond should
state whether the diamond is natural or synthetic;
name any treatments or enhancements.
An appraiser of colored diamonds should
be a Graduate Gemologist, preferably also a Certified Insurance Appraiser™,
have experience dealing with colored diamonds,
examine the stones on gem lab equipment,
be familiar with current technologies for enhancing diamonds,
be able to distinguish natural from lab-grown diamond.
Lab-made diamonds can be difficult to detect. Laser inscriptions on the girdle, identifying the manufacturer, may be concealed when the stone is in a setting.
Improperly trained (or dishonest) retailers and appraisers may pass on synthetic diamonds as naturals.
Never assume a diamond is natural just because the appraisal doesn't mention man-made/lab-grown/synthetic. The appraisal should specifically state that the gem is natural.
Lab equipment, developed by DeBeers and others, allows gemologists to distinguish synthetic from natural diamond, but the cost of this equipment is beyond the means of most retail jewelers. Therefore, when insuring colored diamonds represented as natural, insist on a Diamond Report from a reputable lab which employs the best technology available.
GIA, AGS and GCAL are respected authorities in diamond grading. Not all diamond certificates come from trustworthy labs. See Spotting a Bogus Appraisal for details.
The GIA now grades synthetic diamonds. The heading on the GIA document specifies that the report is for a "synthetic colored diamond," and the description includes the phrase "laboratory grown."
There's a growing problem with counterfeit diamond reports. To verify authenticity of a certificate, follow the appropriate link. You will need the report number and the carat weight of the stone.
GIA Report Check
AGS Report Verification
GCAL Certificate Search
Remember that even a reputable diamond report is not a substitute for an appraisal. A diamond report does not describe the jewelry as a whole, including metal, setting, etc., and it does not give a valuation.
It is best to have a detailed JISO 78/79 (formerly ACORD 78/79) appraisal from a competent and experienced jeweler who is a Graduate Gemologist (GG) and a Certified Insurance Appraiser™ (CIA).
FOR ADJUSTERS
The price difference between natural and synthetic diamond is immense, as is the difference between treated and untreated diamond. An overpayment could be tens of thousands of dollars or more.
If the appraisal does not explicitly state the diamond is natural, use every means possible to determine whether it is natural or synthetic. Be especially diligent with colored diamonds.
If there is a diamond report, be sure to verify its authenticity using the links above.
Inspect the appraisal for terms that mean synthetic, such as grown, created, lab-made, and cultured. Also look for the terms treated or enhanced.
Be sure to scrutinize the appraisal and sales receipt. If the sale price is too good to be true, the gem is probably a synthetic or an imitation (such as cubic zirconia or moissanite).
On a damage claim for a high-priced diamond, always have the piece examined by a qualified gemologist, such as a Certified Insurance Appraiser™, to determine whether the diamond is natural or synthetic (and to be sure its qualities are as stated in the appraisal).
Makers of synthetic diamonds use their names to market their products. Recognizing these names, or working with a jewelry insurance expert who does, could save you tens of thousands of dollars on a claim.
©2000-2018, JCRS Inland Marine Solutions, Inc. All Rights Reserved. www.jcrs.com
Subscribe to Jewelry Insurance Issues