A Cutting Question concerning vintage diamonds
In terms of value, Cut is the most important of the "4 Cs" of a diamond. Cut can account for half of a diamond's worth. Now some jewelry sellers are pressing GIA to remove cut grade from its reports for vintage diamonds.
What's special about vintage diamonds?
The phrase is misleading. There's no such thing as a "vintage diamond." All natural diamonds are millions of year old! (And all synthetic diamonds are quite new!) Diamond is diamond, regardless of its age. But over the past two millennia, there have been dramatic changes in how diamond is cut to make it suitable for jewelry.
A brief history of cut
| | | | | |
| --- | --- | --- | --- | --- |
| Point Cut | Table Cut | Old Single Cut | Old European Cut | |
Early admirers of diamond appreciated the gem for its extreme hardness, not its beauty. Diamond often comes out of the earth in 8-sided crystals, and in early times there existed no means of cutting it. The crystals were simply cleaned up as much as possible and set in jewelry. This diamond ring, dating from about the 3rd century, is lovely and mellow but shows nothing of the sparkle we associate with diamond today.
Gradually gem-cutting technology developed.
Early cutters shaped gemstones with hand tools. Over the centuries mechanized equipment made the job easier and allowed finer and finer faceting. During the past century, advances in the science of optics enabled cutters to determine the best geometry for diamonds, and electric equipment made this precise geometry possible.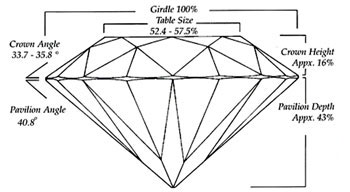 This "best geometry" yields a diamond with the most brilliance and scintillation. The established standard for a round brilliant cut stone is 58 very precise facets. In brief, the nearer the gem is to this best geometry standard, the higher its cut grade. And, other things being equal: the higher the cut grade, the higher the valuation, because of the cutting time involved and the amount of diamond cut and polished away. (See Beyond Ideal for more detailed discussion.)
Back to vintage jewelry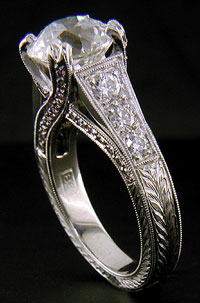 Jewelry from the 19th and early 20th century is likely to have diamonds that are Mine Cut or Old European Cut shapes. These gems fall short of the "best geometry" standard we now have. They do not refract light as well, they don't appear as brilliant, and GIA will likely rate their cut as "poor" (which it is by today's standards).
Retailers of period jewelry say that this grade hampers the sale of beautiful old jewelry and of contemporary jewelry, such as the ring pictured at right, designed to showcase century-old Old European Cut diamonds. All customers want a GIA certificate these days, and seeing the word "poor" on the diamond report impacts their appreciation of the jewelry.
These sellers say that, since earlier cutters couldn't do what today's cutters can, old gems should not be subjected to today's standard. Instead of a cut grade, these sellers would like the diamond report to simply say "Old European Cut".
The argument against this change is that Old European Cut is a shape still produced today. One reason to use this cut would be to replace a stone lost from a piece of period jewelry, since a diamond cut to contemporary standards would look out of place.
Another reason might be that the Old European cut is less demanding than the Round Brilliant cut of today's standard, since its faceting is less precise. Old European also yields a heavier gem, and higher carat weight makes a good selling point.
The market, however, gives higher value to a cut that makes the diamond appear more brilliant. A diamond that was cut this year would be judged by today's standard, and if it were an Old European cut it would be graded poor. The same should hold for a diamond cut 100 years ago, since an appraiser can't tell visually whether a diamond was cut yesterday or a century ago. The cut grade ranks the cut of the gem, not the period when the cutting was done or the style of the jewelry in which the gem is set.
FOR AGENTS & UNDERWRITERS
Beware of important-sounding words on an appraisal that say nothing about quality. "Antique" only means the piece is at least 100 years old. Do not take it to mean unique or valuable.
Terms like "Victorian," "Edwardian," "Art Deco," etc., describe the style of a period. They say nothing about value.
A contemporary piece "in the style of" an earlier period should be so described, so it is not confused with jewelry made during that period.
The name of a cutting style is not a cut grade. When the stone was cut is usually not important. Look for geometry details on the stone's cut.
Have an appraisal for all scheduled jewelry. Preferably, the appraisal should be on JISO 78/79 form, written by a trained gemologist (GG, FGA+, or equivalent) with additional insurance appraisal training. One course offering such additional training is the Certified Insurance Appraiser™ (CIA) course of the Jewelry Insurance Appraisal Institute, Oakland, CA.
Authenticating and valuing antique and period jewelry requires skill and experience. Be sure the appraiser is a jeweler who regularly deals in such jewelry, one who is familiar with the pricing in this specialized market and alert to its scams.
Be sure the appraisal includes a picture of the jewelry. This can be invaluable in the event of a loss. A sales receipt is also very useful.
FOR ADJUSTERS
When pricing replacements, look for cut information on all appraisals and diamond reports. Look for the numbers describing table, crown angle and pavilion depth.
Any inscription on the diamond's girdle, such as a brand name or GIA certificate number, is important information and should be taken into account when pricing a replacement.
Scrutinize appraisals for period jewelry. Investigate the appraiser's qualifications. Remember that appraising period jewelry requires an expertise beyond that of most jewelers who deal in contemporary pieces.
Compare the appraisal's valuation with the sales receipt. If the jewelry is an heirloom, request additional documentation. Don't take a statement about inheritance at face value. Just because jewelry is old doesn't mean there is no paper trail.
Look at the photo. For period jewelry, refer to auction catalogs or public auction sites for similar jewelry to verify the valuation.
Consider using a jewelry insurance expert's help in settling the claim, to avoid overpayments on antique and period jewelry of high value.
©2000-2018, JCRS Inland Marine Solutions, Inc. All Rights Reserved. www.jcrs.com
Subscribe to Jewelry Insurance Issues