EightStar Diamonds—
Beyond Ideal

Before: The best cut grade of round brilliant diamond was "Ideal."
Now: The best is "EightStar."
It's a difference in beauty–and valuation.

Geometry + technology = flash
In the development of diamond cutting, it turns out that a round shape, cut to specific proportions, shows off the stone to best advantage.

Last month's issue outlined how technological advances led to more beautiful gems. Early cutters shaped gemstones with hand tools. Over the centuries mechanized equipment made the job easier and allowed finer faceting. Advances in the science of optics enabled cutters to determine the best geometry for diamonds, and electric equipment made this precise geometry possible.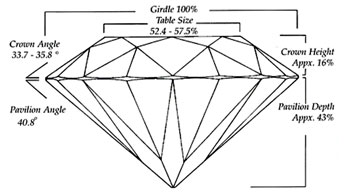 The ideal proportions for a round diamond were established. Valuation of round brilliant diamonds depends on how nearly the diamond's geometry approaches this standard.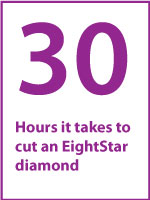 The American Gem Society (AGS) cut grading system called stones that met this standard "Ideal." Premier diamond cutters and retail jewelers have promoted this standard, and you may see "Ideal" given as a cut grade on appraisals and documents from the retailer. But a word of caution: what one jeweler calls "ideal" may be entirely different from the AGS "Ideal" cut standard.
More recently, the Gemological Institute of America (GIA) established its own cut grading, where the best cut is called "Excellent." However, GIA's "Excellent" is actually a looser standard that the AGS "Ideal" cut standard.
This discrepancy between the two major grading organizations had the effect of watering down the original Ideal grade, meaning that less well-cut stones are now being labeled "Ideal".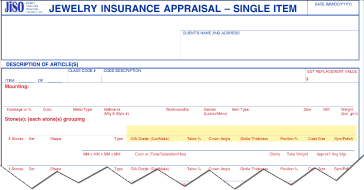 JISO 78
For the insurer (and the consumer) it is far better for the appraisal to give exact cut proportions, not just a word-grade for cut. The JISO 78/79 appraisal form specifically prompts the appraiser for table percentage, crown angle, girdle thickness, pavilion depth, and culet size.

EightStar-more light!

SymmetriScope™ Images
Beyond Excellent, beyond Ideal, is EightStar.
The brilliance of diamond is all about light, light retuning to the eye of the viewer. As technology continues to improve, instruments are better able to measure light return.
For EightStar diamonds, cutters concentrate not just on overall geometry but on the precise arrangement of the facets.

During the EightStar cutting process, cutters use an instrument called a SymmetriScope™ to insure that the reflection of each facet aligns perfectly with its opposite facet. They check each diamond about 200 times during the cutting. This exact arrangement of the facets, like mirrors mirroring each other's light, dramatically increases the diamond's fire.
In the pictures at right, the EightStar diamond shows perfect symmetry and reflects all light. The Ideal cut diamond has good symmetry but the white notches along the edges show where light "leaks out" of the diamond because it is not reflected back to the eye. The bottom image shows a diamond of very low cut grade because of its terrible cut symmetry; to the naked eye this diamond looks (as one jeweler described it) like "a sparkly blob."
Precision comes at a cost. For comparison, it takes about 5 hours to cut an Ideal diamond, and about 30 hours to cut an EightStar. As you might expect, EightStars have a much higher valuation.
EightStar is the name of the diamond-cutting company, but EightStar is also the name of this cut. Some jewelers sell EightStar diamonds under other names. HOWEVER—it is by no means the case that all brand name diamonds are EightStar cut.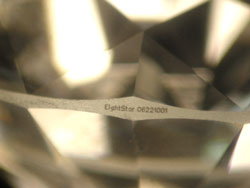 Laser inscription on diamond's girdle
EightStar diamonds are laser-inscribed with the name EightStar and a unique number. This identifying inscription, and any inscriptions on the stone, should be mentioned in the appraisal.
FOR AGENTS & UNDERWRITERS
When insuring quality diamond jewelry, require a detailed descriptive appraisal, preferably on JISO 78/79 prepared by Certified Insurance Appraiser™ (CIA).
FOR ADJUSTERS
When pricing replacements, look for cut information on all appraisals and diamond reports. Ignore words like excellent or very good, as these are too vague to be of any use. Look for the numbers describing table, crown angle and pavilion depth.
Brand names for diamonds can tell much about the quality of a stone, such as whether it is EightStar, color-enhanced, synthetic, etc. If the appraisal or other documents mention a brand name you don't understand, it might be worthwhile to consult a jewelry insurance expert before settling the claim.
Any inscription on the diamond's girdle, such as a brand name, i.d. number, or GIA certificate number, is important information and should be taken into account when pricing a replacement.
For a damage claim, have the diamond inspected in a gem lab to determine cut proportions (as well as to verify other qualities) before settling the claim. Remember that cut accounts for as much as 50% of a diamond's value.
©2000-2018, JCRS Inland Marine Solutions, Inc. All Rights Reserved. www.jcrs.com
Subscribe to Jewelry Insurance Issues