How do you like your rubies —
leaded or unleaded?
Lead-glass is the latest additive for bargain-basement rubies. It masks a badly fractured stone, but the result is no match for high-quality ruby.
Rubies with lead-based glass filler began appearing on the market about two decades ago. But in the past few years, the trickle has turned to a flood.
Leaded: Low-quality ruby,
pumped with lead-glass
to conceal inclusions,
wholesales for
$2-$15 per carat

Unleaded: Ring with a
single 4-carat natural Burma ruby — even with some inclusions —
is valued at $50,000.

Photo by Jessica Arditi
and Sun Joo Chung of AGL
There's nothing new about gemstone clarity enhancements. Emerald, for example, is commonly fracture-filled to improve its appearance, as discussed in the November newsletter.
For the supplier, fracture-filling is a money-maker. The treatment
is inexpensive;
makes a low-quality ruby look better;
greatly increases the amount of rough gem material that can be used for jewelry, material that previously would have been discarded as too fractured and unattractive.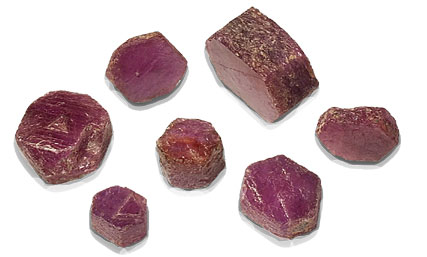 Low-quality ruby rough is the starting material
for lead-glass enhancement

For the buyer and insurer, this treatment
increases the potential for fraud, because low-quality material can be passed off — and priced — as gem-quality;
may break down;
requires disclosure!
How Bad Is It?
Glass Isn't Ruby. "These stones are often so heavily treated that it is not always possible to determine how much of the stone is actually ruby and how much is glass," said Christopher P. Smith, VP and Chief Gemologist at American Gemological Laboratories (AGL). "In their natural state, these stones are translucent to opaque, with extensive cavities, channels and fractures."

Durability of the Filling. Researchers have found that when a filled stone is heated to high temperature, the filler begins "sweating" and after a few moments flows out of the stone.

The filler also becomes damaged when exposed to solutions used for cleaning gems, and is even harmed by common household products such as bleach, ammonia and lemon juice. Once the filling breaks down, the stone's fractures are again visible.

A large piece of the yellow-to-orange colored lead-glass used in the treatment is still attached to a piece of ruby rough.

Photo by Fred Kahn
and Sun Joo Chung
of AGL
Weakness of the Gem.Corundum (ruby and sapphire) is one of the hardest materials known (9 on the Mohs scale—only diamond is harder) and its toughness rating is "Excellent." Yet a highly fractured ruby that's held together by filler could fall to pieces if the filler is destroyed.


When the glass filling is damaged, fracturing becomes evident

Photomicrograph
by Christopher P. Smith of AGL
The Mask. Fracture-filling merely masks a low-quality, unattractive and weakened stone. Fracture-filled rubies are worth much less than untreated natural rubies, but the treatment is not always disclosed.
Although the new lead-glass treatment can easily be recognized by a gemologist, many jewelry retailers are not gemologists and do not even examine the gems they sell. A less-than-honest jeweler could leave off mentioning the treatment, while emphasizing the stone's low price.
Disclosure! AGL Takes a Major Step
The proliferation of stones with lead-glass filler is a serious problem. Disclosure is essential because the treatment greatly affects both durability and valuation.
AGL, a lab that specializes in reports on colored gems, has taken a break-away stand by highlighting the treatment. Their disclosure is not subtle. From now on, AGL reports will identify such treated stones as "composite ruby" (rather than ruby) and will specifically describe the treatment.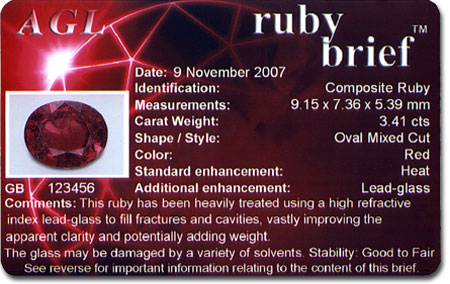 This new AGL report policy is a great service to consumers (and insurers) because
AGL identifies the stone as "composite ruby." This term immediately distinguishes such a highly adulterated stone from ruby that is not fracture-filled.
Besides listing the heat enhancement, which is standard for rubies, it also specifically lists the lead-glass treatment as an "additional enhancement." This alerts the buyer/insurer that the stone has been subjected to a treatment that is outside the jewelry industry's standard.
In the comments section, the report states, "This ruby has been heavily treated using a high refractive index lead-glass to fill fractures and cavities, vastly improving the apparent clarity and potentially adding weight. The glass may be damaged by a variety of solvents."
We heartily applaud this detailed description of the enhancement and its consequences. We hope other labs will be equally specific in their descriptions.
FOR AGENTS & UNDERWRITERS
Would we knowingly insure something with a manufacturer's defect?
It is our recommendation that fracture-filled rubies not be insured at all because the fractures constitute inherent vice.
There is always the danger that gem treatments will not be disclosed — by the supplier, the dealer, the jewelry manufacturer, the retailer, or the consumer — either out of ignorance or as deliberate fraud. The insurer is at the end of this chain and could wind up grossly overpaying a claim.
Clarity enhancement has a serious effect on valuation. For all rubies, be sure the appraisal either explicitly states that the stone is untreated or lists the treatments, such as fracture filling or lead-glass enhancement.
Not all jewelers are trained gemologists with proper gemological equipment. Not all jewelers even examine the gems they sell. For high-priced ruby jewelry, be sure the appraisal is written by a jeweler who is
a GIA Graduate Gemologist (GG), who examines the jewelry in a gem lab; and preferably also is
a Certified Insurance Appraiser (CIA)™, who writes appraisals on JISO 78/79, the insurance industry's standard; and who
regularly deals in colored-gem jewelry. Such an appraiser will be aware of market trends and scams, such as the influx of lead-glass composite ruby.
Be especially cautious with jewelry bought from sources like online auctions and shopping channels. Ebay auctions, for example, have rubies with a starting bid of one cent, though one of these gems was "appraised at $800." Treatments are almost never mentioned in the advertising, and appraisals and lab reports from such sources should not be relied upon. For more discussion, see our issues on Ebay Shopping (September 2007) and TV Shopping (October 2007).
Gem lab reports can be useful, but all lab reports (or certificates, briefs, information cards, summations of appraisal, or whatever they may be called) are not equal.
Some "lab reports" are merely sales tools with exaggerated descriptions and inflated valuations.
Some labs are unreliable (or non-existent!).
Some labs offer a variety of reports, with higher-priced documents giving more detail than their low-priced versions (…and that is a subject for another newsletter!)
AGL produces the best colored stone certificate available, as we discussed in our issue on colored stone reports. Unfortunately, it follows its own nomenclature for describing color, rather than relying on the GIA system widely in use. Although AGL's system can be converted to GIA's, doing so becomes a task for the customer (or insurer) and makes comparison shopping difficult.
A gem report, even from a reliable lab such as AGL, is not a substitute for an appraisal because it
may not describe the color in terms of hue, tone and saturation
may not mention clarity
omits cut proportions
doesn't give a valuation
This information should appear in your JISO 78/79 appraisal.
FOR ADJUSTERS
Clarity-enhanced stones are worth far less than unenhanced rubies of similar appearance. Use every means possible to determine whether or not the ruby has been fracture filled.
Study the appraisal and other documents for such words as treated, enhanced, clarity enhanced, lead-glass enhanced, fracture filled or composite ruby. This is crucial information when you are pricing a replacement.
Compare the sales receipt with the appraisal. If there is a great discrepancy between selling price and valuation, the selling price probably reflects value more accurately. If the sale price seems "too low," it's possible that the gem was fracture-filled or was synthetic. A jewelry insurance expert may help in determining this.
If a claim is made for damage, ALWAYS have the damaged jewelry examined in a gem lab by a graduate gemologist, preferably one who is also a CIA. The exam
will verify the quality of the jewelry;
may supply information missing from the appraisal;
may reveal that the "damage" is not damage at all;
may show the damage resulted from breakdown of fracture-fill material.
If the ruby was fracture-filled, look closely at the inherent vice exclusion on the policy.
Ask the policyholder whether the jewelry has recently been cleaned or the gem reset, or whether it had been exposed to such common household solvents as bleach, ammonia or lemon juice. Fracture-fill materials often discolor or break down under the stress of heat or chemicals, causing the stone to appear damaged. In such cases, it's really the filling that's been damaged and the insurer is not liable.
©2000-2018, JCRS Inland Marine Solutions, Inc. All Rights Reserved. www.jcrs.com
Subscribe to Jewelry Insurance Issues