Why NOT to insure a Rolex: Reasons 8-10
In this issue we home in on counterfeit watches. Here are three ways of looking at the fakery – and that makes three more reasons for insurers to be wary of covering a Rolex.
Reason # 8: Rolex is the #1 faked watch.
This is the observation of several jewelers, watch connoisseurs, and insurance specialists who track such things. One of these observers is Fake Watch Buster, a watch enthusiast with a mission. When braggarts post pictures of their luxury watches on social media like Instagram, Twitter and Flickr, he exposes the fakes, often showing a picture of the genuine watch next to the knockoff, as in the photo pair above.
The ones that Fake Watch Buster catches, and there is never a shortage of examples, are obvious enough that he can recognize them from a cell-phone photo. But knockoffs run the gamut from sophisticated copies, selling for tens of thousands of dollars, to flimsy imitations stamped with the word Rolex, that go for under $100.
Rolex is the largest single luxury watch brand, so it makes sense that it is the also the most-counterfeited brand. Cheap or pricey, what these fakes have in common is that they play off the cachet of the name Rolex.
Reason # 9: There are more counterfeit Rolexes in circulation than genuine ones—probably about 10 times more.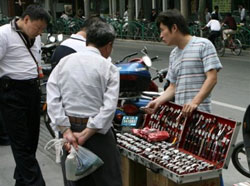 Can these buyers spot a fake?
The extent of the problem is a bit staggering. It's been estimated that the total number of faux Rolex watches produced every year is 10 times the number made in Rolex's own facilities.
Some counterfeits are so well done that only an expert can detect them. They may be reconstituted watches, made of parts cannibalized from other Rolexes that were no longer working. Or they may have some genuine parts, along with some cheap substitutes. Counterfeit manufacturer's boxes and certificates of authenticity complete the brand-name aura.
Some sell for ridiculously low prices. Buyers looking for bargains on luxury watches at flea markets or online rarely have the expertise to recognize telltale signs of fakery. Maybe they think they've gotten the steal of the century, paying much less than the item is "really worth." You might assume a buyer who gets a "Rolex" on the cheap knows he's getting a knockoff, but apparently that's not always the case. Some buyers are so sure they got a bargain that they go to an authorized Rolex dealer for service! The customer may have been fooled but the Rolex dealer is not and he will refuse to service a counterfeit watch.

But a high purchase price does not guarantee an authentic Rolex. Paying $20,000 for a $50,000 watch may seem like a great deal, but hallmarks can be forged. Authentic visible parts may conceal a movement that was cobbled together. Those diamonds may be CZ, and the gold may actually be gold plate over a cheaper metal.
Counterfeit Rolexes are so common that experts trip over themselves inventing terms like Foolex and Fauxlex. Major cities like New York, Hong Kong and Tokyo are known to have "fake districts" where all things counterfeit, from purses to sunglasses to watches, are peddled to consumers looking to find them.

And then there's the internet. A number of websites openly sell replica watches. A site may even show pictures of the authentic watches while pitching its own replicas at a fraction of the price.
One estimate is that 15-30% of searches for watches on the internet are looking for replicas. This suggests that buyers are not being duped. They merely want the brand name, without regard to quality or performance.
Rolex is constantly battling internet sellers of counterfeits, bringing lawsuits against the retailers and closing their websites. In one spectacular demonstration, the company invited press cameras to record 7,000 confiscated replica Rolex watches being crushed by a steamroller.

Reason # 10: After-market alterations and add-ons are spoilers.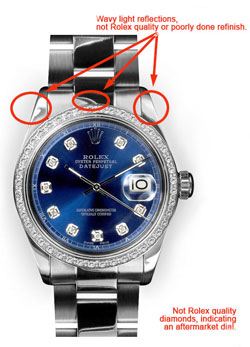 An appraiser notes clues to fakery in watch offered online.
Q. How many non-Rolex parts can be added to a Rolex before the watch is no longer considered a Rolex?
A. Just one.
Rolex states: "The addition of non-genuine parts to any Rolex watch renders it a counterfeit as defined by Federal law."
A genuine Rolex must be Rolex in all its parts. Any changes—a new band, gems added, whatever it may be—that come from a non-Rolex source render the watch counterfeit. It's a good guess that many Rolexes sold through online auctions have non-Rolex alterations or substitutions. Despite being widely available, such watches are illegal to sell because they violate the company's trademark copyright.
Such an altered watch has a much lower value that the genuine Rolex it aspires to be.
Insurers' odds: 10:1
10 times more fake Rolexes than genuine ones are put into circulation each year. These are the odds you face when insuring a Rolex.
Doesn't the appraisal verify to the insurer the authenticity and value of the watch? The blistering topic of Rolex appraisals will be the subject of next month's JII.
FOR UNDERWRITERS
Considering the prevalence of counterfeit Rolexes, be on guard. You don't want to have to replace a cheap knockoff with a genuine item down the line.
Many customers may not be aware that luxury watches bought from sources other than an authorized dealer may be counterfeit, despite any logos or trademarks. Insisting on complete information about the watch not only protects the insurer but is a service to the policyholder.
The sales receipt for a Rolex should be from an authorized Rolex dealer.
Any watch from an unauthorized source should be thoroughly inspected to be sure that all its parts are genuine, including the movement. This requires opening the watch case and examining the entire watch in detail. The inspection should be done by an authorized dealer in that brand.
Always ask for warrantee papers, even if the watch is past its warrantee date. These papers attest to the authenticity of the watch.
Not every jeweler is competent to appraise luxury watches, to judge authenticity of the watch and all its parts, and to recognize non-authorized aftermarket add-ons as well as out-and-out fakes.
FOR ADJUSTERS
Losses of ladies' watches are infrequent, but losses of men's are much more common, and they can be expensive. Be on guard against fraud. If a policyholder discovers he has inadvertently purchased a counterfeit watch he may decide to lose it and cash in.
Check the appraisal for manufacturer, model and serial number, plus any other identifying information.
Check for manufacturer warrantees and other evidence of authenticity. Merchandise bought online (or from other unauthorized sources) may be second-hand, or may be altered with cheaper parts, or may be a complete knockoff wearing a prestigious logo.
The sales receipt is important evidence. If the seller is not an authorized dealer in that brand, the watch may be counterfeit.
If you suspect a watch is counterfeit, consider consulting a jewelry insurance expert to help resolve the issue.
©2000-2018, JCRS Inland Marine Solutions, Inc. All Rights Reserved. www.jcrs.com
Subscribe to Jewelry Insurance Issues